An exceptional quarter for Xiaomi saw the Chinese mobile phone company rise to second place in global smartphone shipments in the second quarter of 2021, according to research firm Canalys.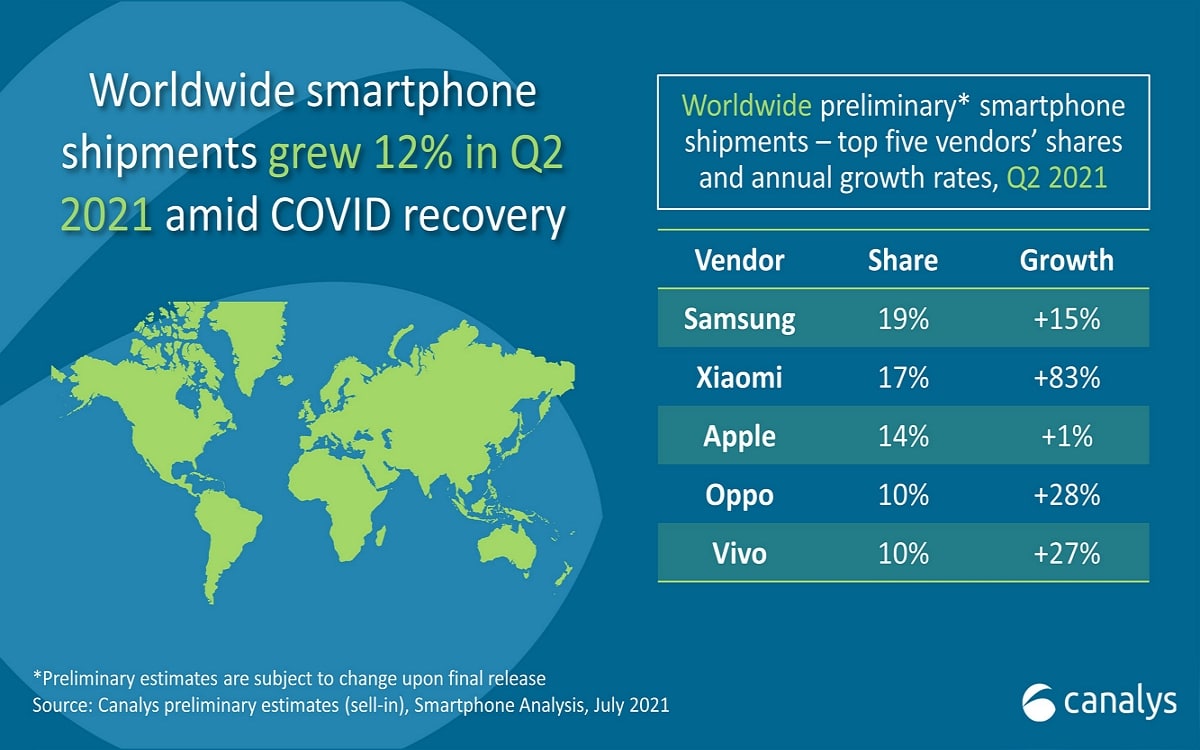 After a record first quarter for Xiaomi, where the manufacturer took third place just behind Apple, the Chinese company finally overtook the American giant in the second half of this year. The first, fourth and fifth places remain unchanged and are occupied respectively by Samsung, OPPO and Vivo.
Xiaomi already occupied the second place in the European market in the first quarter, but it is now at the global level that the manufacturer is attacking Samsung, still number one. Samsung was the most popular smartphone seller with 19% market share and 15% growth, while Xiaomi obtained a 17% market share thanks to an 83% growth in smartphone sales in the quarter. Apple, for its part, only experienced annual growth of 1% in the second quarter of 2021, despite record iPhone 12 sales.
At this rate, Xiaomi will soon become number one in the market!
It has been several years now that Xiaomi has registered double or triple digit growth all around the globe. Compared to Apple, Xiaomi still produces smartphones that are oriented downwards and mid-range, like its recent Redmi Note 10 Pro. The models in this range are generally very popular. The Redmi Note 9 Pro was, for example, among the top 10 best-selling smartphones in 2020.
" Xiaomi is rapidly expanding its activities abroad. For example, its shipments have increased by over 300% to Latin America, 150% to Africa and 50% to Western Europe. And as it develops, it evolves. It is transforming its business model from challenger to incumbent, with initiatives such as the consolidation of distribution partners and more careful management of old stocks in the open market. Said Ben Stanton, research director at Canalys.
It is expected thatApple to catch up in fourth quarter of this year with sales of new iPhone 13 lineup, which will likely be unveiled in September. You can also consult our file which includes everything you need to know about the new models.
Source: Canalys