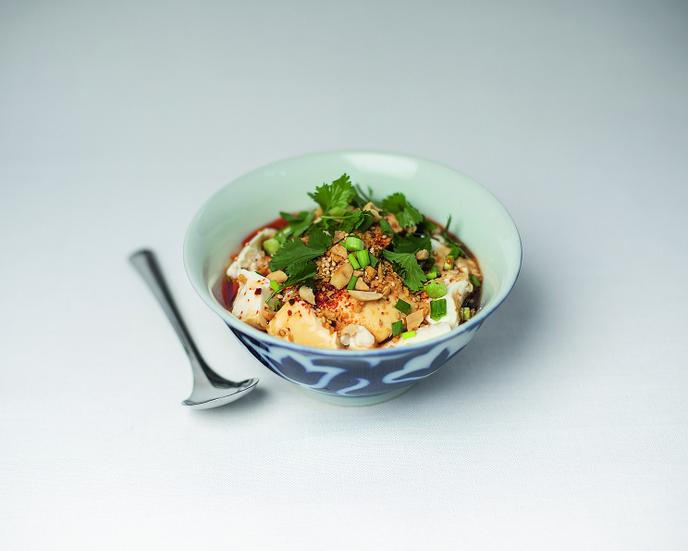 For 4 people
• 1.2 kg of tofu flower, silky tofu or sundubu (unpressed Korean tofu)
• 4 tsp. to c. fried shallots
• 4 tsp. to c. toasted and crushed peanuts
• 4 tsp. to c. toasted sesame seeds
• 4 tsp. to c. spicy oil
• 4 tsp. to c. sesame oil
• 2 tsp. to c. grated fresh ginger
• 8 tsp. to c. soy sauce
• 4 tsp. to c. clear soy sauce
• 4 tsp. to c. black rice vinegar
• 2 sprigs of chopped spring onions
• 1 handful of coarsely chopped coriander leaves
• 2 tsp. to c. medium-hot pepper flakes
Toasted and ground Sichuan pepper
The preparation
Place the tofu flower, in its original container or other suitable container, in a steam basket and heat it with steam for about fifteen minutes. It can also be reheated in a double boiler or even in the microwave.
The tasting
Serve warm, covered with all the condiments and sauces, spreading over each bowl. Arrange to your taste: more or less salty, spicy, peppery, etc. Eat with a small (or large) spoon.
NB: you can find tofu flower in the fresh section of Chinese grocery stores – look for "tofu pudding" or "tofu flan" with glucono-delta-lactone. For a hearty breakfast, count 400 g of tofu flower per person.
Read also
Camille Oger: "There is no more cultural and identity than the meal"
To contribute
Sharing

Share on Whatsapp