With its AMOLED screen, its 108 megapixel sensor and its large battery, the Xiaomi Redmi Note 10 Pro has all these chances to become a staple of the mid-range. Launched at less than 300 euros, it becomes even more affordable with this promotion on Amazon which increases the price of the smartphone to 249 euros instead of 279 euros.

The Chinese brand has a series of successes with all of its smartphones. Officialized last March, the Xiaomi Redmi Note 10 Pro integrates the maximum number of innovative technologies at a contained price. Its value for money is therefore excellent, but it becomes even more so with this 11% reduction during the sales.
Why is the Xiaomi Redmi Note 10 Pro excellent?
For its 120 Hz AMOLED screen
Its large 5020 mAh battery
Its main 108 megapixel sensor
Its powerful Snapdragon 732G chip
Instead of 279.90 euros, the Xiaomi Redmi Note 10 Pro 6 + 64 GB is now available in promotion at 249.90 euros on Amazon. It also happens to be on sale in its 8 + 128 GB version: 309.90 euros instead of 349.90 euros.
The mid-range flagship killer
9 / 10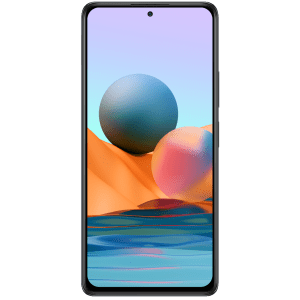 The Redmi Note 10 Pro takes the well-known design of its predecessor. Nothing new at first glance, it offers an almost borderless look with a punched-out display, at the top of the screen in a 6.67-inch format. The radical difference is made with the panel, which is no longer LCD, but AMOLED for infinite contrast. To our delight, Xiaomi also offers a feature normally worthy of a premium smartphone: a refresh rate of 120 Hz for excellent fluidity on a daily basis. In addition, the screen is covered with Gorilla Glass 5 to protect the screen in the event of a drop.
The efficiency of its 108 megapixel sensor
Once returned, we notice that the photo module of the Redmi Note 10 Pro is now in the left corner and accommodates a huge 108 megapixel sensor.Do not expect the photo quality of the new Galaxy S21 Ultra also offering a sensor of 108 megapixels, but for this price segment, Xiaomi offers some nice shots. There is also an 8-megapixel ultra-wide-angle, a sensor with a 5-megapixel macro lens, a depth sensor and a night mode.
An SoC that holds up
On the performance side, Xiaomi's smartphone is powered by a Qualcomm Snapdragon 732G, with 6 GB of RAM. With this configuration, most applications will run without slowing down as well as the most demanding mobile games – however with limited graphics conditions – while optimizing energy consumption, according to the Chinese manufacturer. The overall experience will therefore be very fluid. This model runs on Android 11 with the new version of the MIUI interface. We still regret the absence of compatibility with the 5G network.
A solid autonomy
Renowned for the autonomy of its devices, Xiaomi is no exception on this model and does it big. The Redmi Note 10 Pro packs a large 5,020mAh battery, allowing it to run for more than a day without a problem – even when using 120Hz mode. So you can spend your day away from your charger, just in case. , the 33 W fast charge is part of the game to quickly recover percentages. Allow more than half an hour to charge the smartphone to 100%. Wireless charging is not present for this price range.
To find out even more, do not hesitate to read our test on the Xiaomi Redmi Note 10 Pro.
---
If, subsequently, the offer mentioned in this article is no longer available, please take a look at the table below to find other offers concerning the Redmi Note 10 Pro.
2021 summer sales: all you need to know
From June 30, 2021, Frandroid is covering sales to help you identify the best Tech deals for the event. Each merchant will offer new offers every Wednesday for the various markdowns of the 2021 Sales until the end, July 27, 2021.
You will also find guides by merchant such as Amazon, Boulanger, Cdiscount or Fnac and Darty, but also selections by theme with in particular our selection of Smartphones, the best laptops or even TV destocking from the 2021 Summer Sales.
You can also follow the event on our social networks via our Twitter account @FrandroidPromos or our Frandroid Bons Plans Facebook page. Last option: our special 2021 Sales page.