We all eat spaghetti to the Bolognese since childhood and we know them by heart. A little minced meat, tomato sauce, spaghetti and voila. Yet the real sauce is a little more complicated than that. But do not panic, we detail you just below.
Note that if in France, Bolognese sauce is eaten with spaghetti, originally it is eaten more with tagliatelle. The term Bolognese is also a bad translation since the inhabitants of Bologna are the Bolognese. But the advantage of spaghetti, especially in love, is that we can reproduce this mythical scene of The Lady and the Tramp. Enough blah, place in the kitchen.
The sauce ingredients for about 10 people
– 500 g of 5% ground beef
– 50 g pancetta or bacon (optional)
– 700 g of peeled tomatoes, or canned tomato pulp
– 1 carrot, 1 celery stalk
– 2 pink garlic cloves, 1 yellow onion, 1 shallot
– 1 glass of red wine
– A little milk, or cream
– Salt, Pepper, Sugar, Laurel, Basil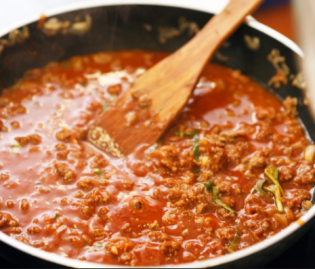 Steps to prepare the sauce
– Start by preparing what is called soffritto. Soffritto is the basis of almost all Italian tomato sauces. It's a mixture of finely chopped vegetables and herbs, sautéed in olive oil before adding the tomato, and that's the flavor of the sauce. So start by very finely chopping your garlic, onion, shallot, celery and carrot. In very small dice. Fry gently in a large casserole dish with a little olive oil for a few minutes.
– Subsequently, fry your meat over a higher heat. Lower your fire. Deglaze with red wine. Then add a little milk or cream to break the acidity.
– Then it's time to add the tomato pulp. There you have two choices: either you make your pulp yourself. Just take the tomatoes, remove the skin, and crush the flesh by removing the seeds. Second solution, you take ready-made tomato pulp: very practical when it is not tomato season.
– Finally, the simmering stage comes. And there, it is long since this stage lasts 2 hours, if we want things to be well done. At the end of cooking, season with salt and pepper. Add a little sugar depending on the acidity.
– Now for the pasta. Add previously cooked pasta to the sauce, and add parmesan. Let it warm up for a few minutes. Serve immediately, with a hint of fresh basil. And Viva Italia.
Our other recipes that smell of the Mediterranean:
Generous and gourmet, here is the gratin of gnocchi! A very simple but delicious recipe
Tapas with chorizo, mozzarella and Provencal herbs: let's go for an aperitif!
Rainbow pasta in minutes
Find out more about: italy – recipe – spaghetti
Posted by Tom on 13 Feb 2020