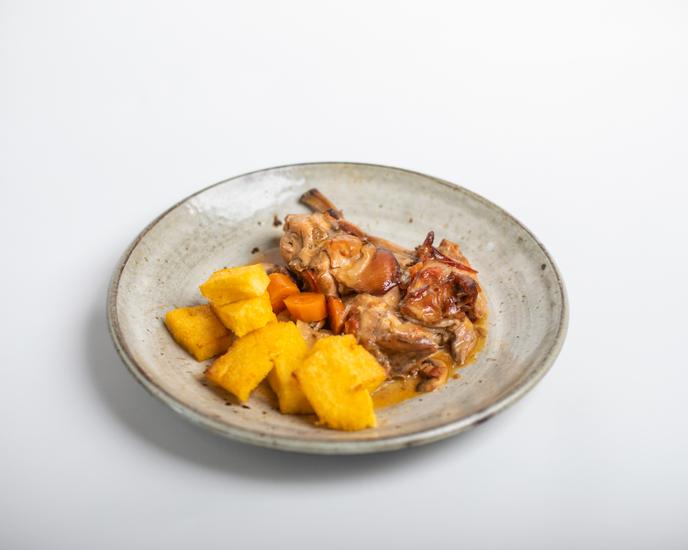 Ingredients for 4 to 6 people
1 rabbit of about 1.8 kg cut into pieces,
4 large shallots, peeled,
4 peeled garlic cloves,
100 g of smoked bacon cut into small pieces,
20 g of flour,
250 g of button mushrooms,
3 peeled tomatoes,
3 carrots, peeled and cut into slices,
½ quince peeled and cut into large cubes,
30 ml of young, tangy and slightly sweet white wine (late harvest Riesling type),
15 cl of organic poultry broth,
1 small bunch of wild thyme (or fresh thyme),
salt,
pepper,
olive oil,
Butter,
polenta (raw or pre-cooked).
The preparation
In a large cast iron casserole dish, pour 1 tablespoon of oil and 1 piece of butter and brown the shallots and coarsely chopped garlic cloves. Add the pieces of rabbit and the bacon, brown over high heat.
When the rabbit begins to brown, sand it with the flour.
Cut the mushrooms and tomatoes into large pieces, sweat them in a pan with a drizzle of olive oil. When the vegetables have melted, pour them into the casserole dish. Add the sliced ​​carrots and the diced quince. Wet everything with wine and broth. Add the wild thyme, salt and pepper.
Close the casserole dish and place it in an oven preheated to 160 ° C. Simmer for 2 hours or 2:30. Serve with very soft polenta and a plain, dry and lively white wine, Marsanne or Chenin.