July 12, 2021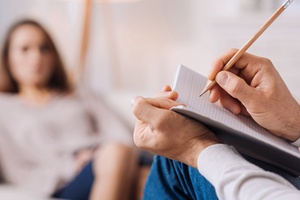 The Covid-19 crisis has highlighted the psychological vulnerabilities of the French, the importance of psychotherapeutic care and the limited resources available to hospital psychiatry services. This inventory must also address the vast field of psychotherapies practiced in liberal, whose lack of regulation is out of step with their ethical issues.
The general public often finds it difficult to find their way between the various professionals who surround the field of psychotherapy (psychologists, psychiatrists, psychotherapists, psychoanalysts, psycho-practitioners, etc.) and between the multiple approaches of psychotherapy (cognitive and behavioral, psychoanalytic, systemic , rogerienne…). In France, the question of regulating the status of psychotherapist was the subject of heated debate for decades – in particular because of the reluctance of psychoanalysts – until the promulgation of decree n ° 2010-534 of May 20, 2010.[1]. Since then, professionals must – in theory – apply for registration in the National Register of Psychotherapists, kept by regional health agencies. The use of the title is automatically granted to psychologists and graduate psychiatrists. Non-psychiatrists and psychoanalysts must for their part complete additional training of two hundred hours (which relates in particular to diagnosis, psychopathology and psychotherapeutic orientations), as well as a two-month internship. Professionals not belonging to any of these categories must certify a long training of four hundred hours and a five-month internship.
Psychiatrists and psychologists constitute, by construction and by statute, the two legitimate professions for the practice of psychotherapy. As a reminder, psychiatrists are doctors who specialized in psychiatric medicine during their four years of internship. In France, they are the only liberal practitioners to benefit from reimbursement of psychotherapies by social security. The modalities of this support are both advantageous for psychiatrists and unfavorable to those who wish to develop formalized psychotherapies. On the one hand, psychiatrists enjoy a monopoly on reimbursements and a great deal of freedom: they alone judge the number of sessions allocated to each patient and do not have to justify the methods used (contrary to what is practiced in other cases). other countries). On the other hand, this system does not encourage practitioners to apply structured and demanding models of psychotherapy such as they exist today. The sessions are in fact reimbursed on the same basis of psychiatric consultation[2], which can cover a simple renewal of treatment as well as an in-depth session of psychotherapy. Whether the interview lasts ten minutes or an hour, psychiatrists receive the same remuneration. They are thus encouraged to continue short sessions – which is moreover possible given the current shortage of psychiatrists and the flow of waiting patients. However, most models of psychotherapy involve relatively long sessions (forty-five minutes, an hour, or even more for family therapy), proofreading of notes, rigorous evaluations, establishment of protocols, etc.[3] Certain psychiatrists thus practice excess fees for psychotherapy, which poses another problem of equal access for patients. Finally, it should be noted that no regulation ensures that patients are informed about the approach of each psychiatrist and their qualifications in a particular type of psychotherapy.[4].
Unlike psychiatrists, psychologists do not come directly into the health field. Their training comes from a university course in human sciences which leads to a specialization master's degree (bac + 5 level). These are psychologists specializing in clinical psychology and psychopathology who are statutorily authorized to practice psychotherapies. The corporation of psychologists encounters specific difficulties, linked in particular to the absence of a professional order in charge of regulating training and practices.
But psychiatrists and psychologists are far from the only ones claiming to practice psychotherapy. In France, the lack of supervision in this field by the public authorities has made it possible for innumerable practitioners to swarm, with little or no training, who have or have not requested authorization to use the title of psychotherapist, but who offer psychotherapies.[5]. Since the title of psychotherapist was protected by law, many of these professionals have changed their names; they can call themselves "psycho-practitioners", "psychology practitioners", "therapists", "coaches", and so on. Others unashamedly wear the title of psychotherapist even without authorization, being informed that there is no effective control of its use by the Regional Health Agencies.
In fact, it is impossible to know with precision the activities of these practitioners, often self-proclaimed, who exercise out of all control. The range of their approaches is extraordinarily wide, ranging from classical methods of psychotherapy to esoteric processes including alternative medicine.
What can be done to better protect users and better organize this field of psychotherapy? Several levers could be used:
Include in the nomenclature of Social Security specific acts for the reimbursement of psychotherapies carried out by psychiatrists, with conditioned price supplements (duration and number of sessions, drafting of treatment plans and reports, etc.).
Create an order of psychologists capable of providing patients with guarantees in terms of information and recourse in the event of ethical breach[6].
Extend, under conditions, the reimbursement of psychotherapies to psychologists[7].
Require additional specific training from psychologists and psychiatrists for the practice of psychotherapy (as Switzerland and Germany do, for example).
Include in the law an offense of "illegal practice of psychotherapy" and develop controls with liberal professionals.
Organize a major conference on psychotherapies and their care, involving all stakeholders in the field (psychologists, psychiatrists, National Health Insurance Fund, mutual funds, Ministry of Solidarity and Health, etc.).
The psychotherapy market is poorly regulated by the simple effects of supply and demand. Of course, some very competent practitioners have better reputations and are in higher demand than others. But, in this area, other factors intervene, which skew this adjustment by competence. A number of poorly qualified practitioners, even who usurp the status of psychotherapist, take advantage of the lack of information and the distress of users, surf on fad effects specific to alternative therapies, take advantage of their personal networks, Internet or their personal charisma, invest medical deserts and sometimes manage to develop a significant activity, with complete impunity.
The inaction of the State can only surprise, in a field which touches with the protection of the citizens in their psychological integrity and with issues of public health. The spectacular development of the psychotherapies market informs us of the strong demand from the French in this field, even though this field of practice remains in a state of prejudicial deregulation.
[1] Decree n ° 2010-534 of May 20, 2010 relating to the use of the title of psychotherapist (amended in 2012 and in 2016). [2] The current nomenclature only provides for a generic act, "consultation for psychiatrists, neuropsychiatrists, neurologists (CNPSY)"; there is no specific act or price for psychotherapy. [3] The non-differentiation of acts according to their nature and their duration is thus particularly unfavorable to the development of family therapy and couples therapy, which by nature involve longer sessions than individual therapies (S. Dupont,
Family therapy
, Puf, 2017). [4] It should be noted that hospital-university education in psychiatry focuses on diagnosis, clinical interview, drug prescription, treatment monitoring and management of hospital units. Psychiatry interns say they have little training in psychotherapy proper. While some universities offer introductions to psychotherapeutic models, the initiative is left to each psychiatrist to subsequently engage in in-depth training. [5] This development is fueled by another booming market, that of private training in psychotherapy, which promises everyone (especially any adult in search of retraining, regardless of their initial training) "certifications" in psychotherapy and 'access to professional opportunities. [6] A bill was tabled to this effect in April 2021. [7] Since 2018, experiments with reimbursement for psychological interviews have been carried out by the CNAM in several regions of France. In a recent report, the Court of Auditors recommends the generalization of this device.