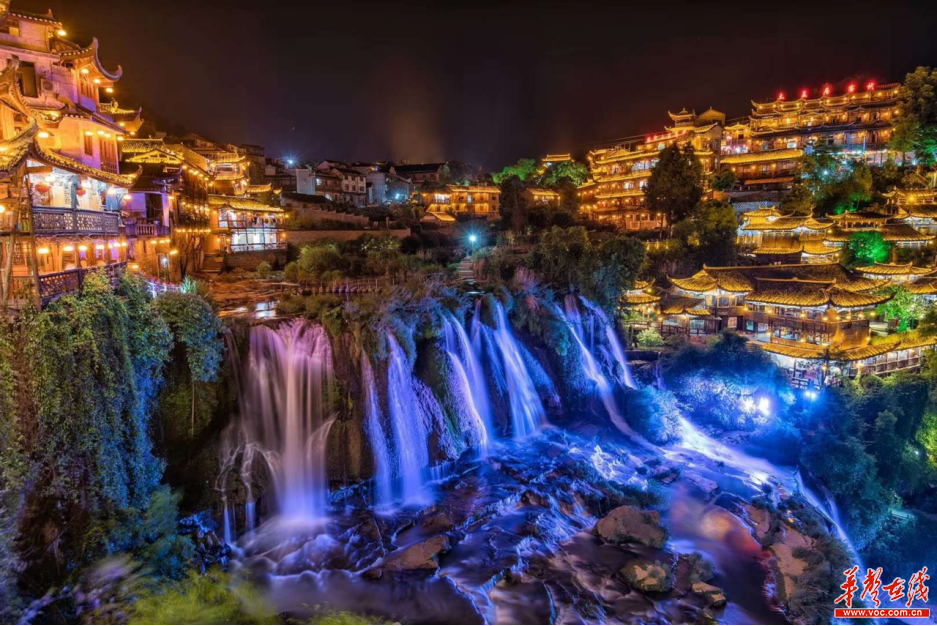 Huasheng Online, June 10 (correspondent He Peng and reporter Liu Yufeng) The first stop of the graduation trip, where should I go? Why not go for a walk in Xiangxi. There are endless mountains and rivers, ancient towns and villages that never tire of walking, listening to the folk songs that are not tiresome, dancing hand-waving dances that are not addictive, and mysterious customs that are not enough to experience… If you make an appointment with friends, go to Furong Town·Red Stone Forest Resort area. The four-day "Graduation Journey" itinerary will allow you to "have fun".
【Graduation Travel Guide】
Day1 afternoon-Furong Town: Hanfu coming-of-age ceremony in the thousand-year-old town
A Hanfu coming-of-age ceremony in a thousand-year-old town declared to the world: "I have grown up!" Put on my favorite Hanfu, and walk with my classmates in this "1000-year-old town hanging on a waterfall", rice tofu, haozi Baba and Muchui Crisp all the way to "walk around and eat"
Then in Baishoutang, Tuwang Bridge, Tuwang Palace, Tiaoyan, Wuli Stone Street, Furong Town Waterfall… leave a "symbol of youth" that belongs to you.
TIPS travel tips:
Eat: Special preserved pot, dry pot osmanthus fish, fried river prawns with chives, No.1 snails in the world, fried beehives, glutinous acid, Liu Xiaoqing rice tofu, haozi baba, etc.
Purchase: Xiangxi Tufeng Miaoyun Specialty Products (Official Store in the Scenic Area), Wuli Stone Street
Day1 night-Furong Town: "High School Musical and Dance" decompression big carnival
After the college entrance examination is over, "Hi" is a must! First, come to a Tujia folk song and dance carnival. In Furong Town, a large group of elder brothers and sisters accompany you, melting your heart with bright smiles and burning enthusiasm. Watch a show "The Carnival of Flowering Furong Bizika", let your body and mind fly in the turbulent history, lingering love and colorful folklore, and dance hand in hand with the Tujia elder brother and sister, and show yourself in the thousand-year intangible cultural heritage. "National Tide Fan".
TIPS travel tips:
Live in: Furong Grand View, Furong Li, Midea Hotel (the official direct-run inn of the scenic spot), Tuwang Palace·Babutang, Tusi Bieyuan, Twelve City·Falling Immortal, Baihe Renjia, Tianquan Inn and other scenic inns and homestays .
Day2 Morning-Sitting on the Dragon Gorge: 23℃ "The King's Canyon" Adventure
In the midsummer of the scorching sun, where is the coolest place to cool off the heat? Go to Longxia, a summer resort with an average temperature of 23℃ in summer! See the cliffs, the rivers and waterfalls, the cliffs and the trees, and the weeds all over the slopes. It is the thrilling "Kings Canyon".
Day2 Afternoon-Red Stone Forest: "Across 500 Million Years" Graduation Film
After climbing and sitting in Longxia, eating a firewood meal at the farmhouse, returning to Furong Town for a short rest, then packed up and set off, went to the Youshui Gallery to take a boat to paint, search for hanging coffins, play with wild monkeys, and then break into a "500 million years" The Secret Realm of the Sea Before". In the Red Stone Forest, there are thousands of strange stones, layered rock waves, natural strong colors, and perfectly smooth lines that make up a blockbuster movie.
Day2 night-Red Stone Forest: a romantic starry night in the native forest
If you stay at the Red Stone Forest Hotel, or set up a tent at a camping site, you can meet the beautiful starry sky in the Red Stone Forest, the forest at night, the mountain breeze blows, the summer insects sing, and your confidant and friends play folk songs and talk to each other under the stars. The sea of ​​stars is within reach, just like a bright future.
Day3-Mengdong River + Buermen: "One-day Tour of Water Play" in Qingliang Mountains and Rivers
It's too hot in summer. Why don't you plan a "One Day Tour". In the morning, you can experience the "No. 1 Drift in the World" Mengdong River rafting, crossing waterfalls, crossing dangerous beaches, trespassing through canyons, exploring the surroundings, chasing waves, and going in the afternoon. Buermen Forest Hot Spring: 41℃ Hot Spring + 15℃ Ice Spring
Let the cool mountain water wash away all your stress and fatigue.
Day4-Old Sicheng: See the sunrise in the sea of ​​clouds and find the world cultural heritage
Be greedy for the stars at night, and don't miss the sunrise in the morning. Standing outside Laosi City "Wan Ma Gui Chao" watching the sunrise of the sea of ​​clouds, you will see the sea of ​​clouds and cascading mountains at your feet. "Small mountain", full of lofty ambitions are stirring in your chest at this moment. Walk into the world cultural heritage-"Tusi King City" old Sicheng, explore the ancient ruins of a thousand years, and experience the original Tujia folk customs.
Adblock test (Why?)