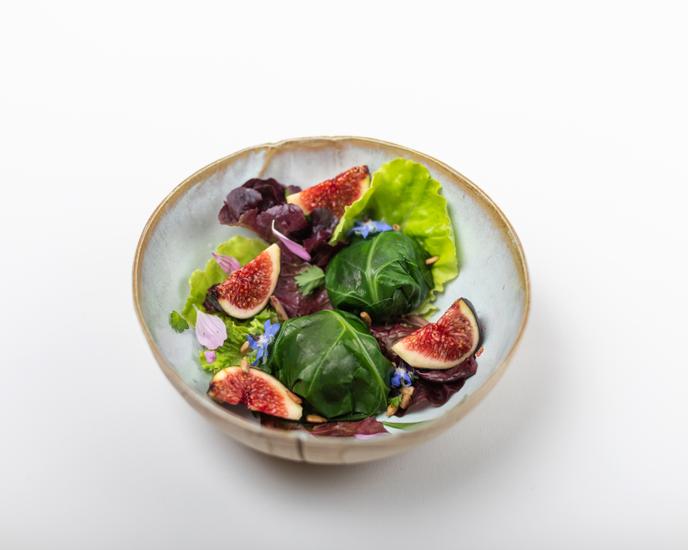 For 4 people
8 beautiful fresh figs of medium size, 12 leaves of young chard (or beet leaves), 1 bunch of Mexican tarragon, 90 g of peeled sunflower seeds, 10 g of Guérande sea salt, leaves of seasonal salad, flowers and leaves from the garden and paths (borage, mallow, burnet, cosmos…), Nyons olive oil, good raspberry or wine vinegar, freshly ground pepper.
For the gomasio
Roast the sunflower seeds for 30 minutes at 150 ° C on the baking sheet. (Reserve a few golden seeds for dressing.) Add the fleur de sel and reduce everything to a powder with a pestle. Leave to dry flat.
Roasted figs in chard leaves
Blanch the chard leaves for 2 min, drain and set aside. Cut 6 figs in half. Roll the figs in the gomasio like a breadcrumbs. Roast for 5 min in olive oil, skin side down. Wrap each still hot fig in a chard leaf, adding a sprig of Mexican tarragon.
Mix salads, tarragon and burnet. Season and arrange on four plates. Place the figs in chard leaves in the center. Add seasonal flowers, pieces of fresh figs and golden sunflower seeds.