Deprived of Google's services, the Chinese giant's smartphone sales collapsed last year, opening up a boulevard to two of its compatriots.
Unsurprisingly, Huawei drank the cup in Europe in 2020. Hit by US sanctions preventing it from installing Google services in its smartphones, the Chinese brand has seen its sales drop throughout the year. Over a year, they collapsed almost by half (-43%) according to figures from Counterpoint.
Huawei has only passed 22.9 million terminals against 40.4 million a year earlier. Its market share has halved from 23% to 12% and this trend is expected to continue this year. For analysts at the research firm, Huawei is on the verge of "practically disappearing from the European market".
Who benefits from this rout? Not the world leader Samsung, which suffered from the global decline in the market due to confinements and restrictions (sales down 12% to 60 million units), nor Apple, whose sales fell "only" by 1% to 41.3 million smartphones thanks to very good sales of its iPhone 5G in the 4th quarter.
+ 90%, + 82% for Xiaomi and Oppo
No, the two winners are compatriots of Huawei, namely Xiaomi and Oppo. The first is harvesting the fruits of its strategy in Europe launched in 2018. The manufacturer is now number 3 in the world, doubling Huawei with sales up 90% to 26.7 million units. Its market share has doubled in one year to 14%, in particular thanks to great successes in Spain and Italy.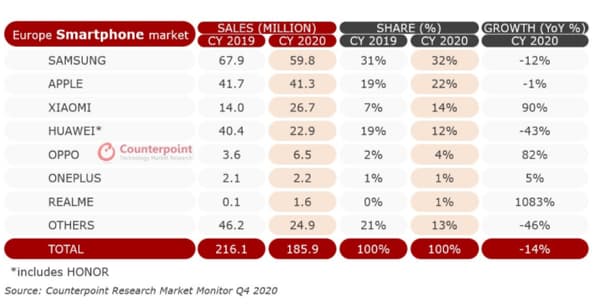 It is now a question of "reproducing this growth in other zones, particularly in more premium markets such as France, Germany and the United Kingdom", underlines the report.
Oppo's growth is also faster, the manufacturer also arrived in Europe in 2018 and shows growth of 82%. It has sold 6.5 million smartphones, its share increased from 4 to 6.5% thanks to agreements with major European operators such as Orange or Vodafone.
The global market shrinks by 14%
Now 5th European seller, present in 12 countries of the Old Continent, the group is showing its ambitions: to join the European Top 3 within 3 years. "We have set ourselves the ambitious goal of becoming one of the leading brands in Europe and we are confident that we will succeed," said Maggie Xue, president of the Western Europe division.
Overall, the European smartphone market fell 14% over one year to 186 million units sold. The generalization of 5G on the continent could allow the market to take off again, but this forecast obviously remains dependent on the health situation.
Olivier Chicheportiche BFM Business journalist