As a starter, as a dessert or between two dishes, there is no good time to enjoy the salad during the meal. These recipes allow to try all three!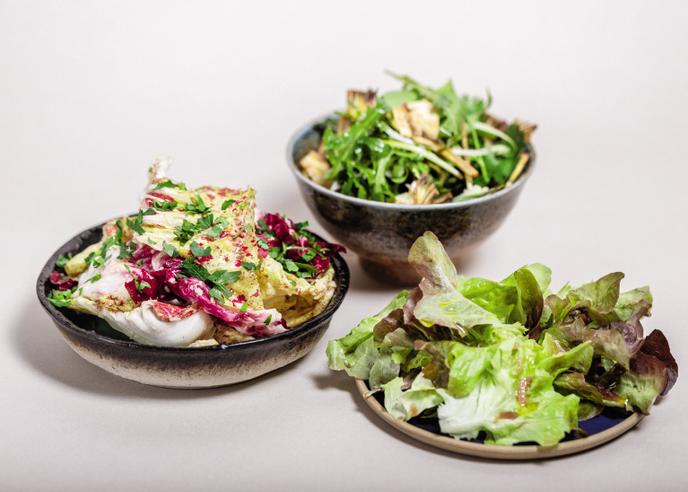 For 4 people.
Green salad with garlic
1 red oak leaf lettuce
1 clove of garlic
2 tbsp. to s. red wine vinegar
5 c. to s. of olive oil
Salt and black pepper
Leaf, wash and squeeze the salad. Crush the garlic by rubbing the pod on the teeth of a fork or a gingerbread (no garlic press). In the bowl, mix garlic and vinegar. Wait two minutes, then add salt, oil and pepper. Lay the salad leaves on it, and stir just before serving.
Winter salad
½ red radicchio and ½ early radicchio
Some fresh parsley leaves
50 g finely grated Parmesan cheese
6 c. to s. sunflower oil
5 c. to s. cider vinegar
Salt and smoked black pepper
Leaf, wash and squeeze the salads. In a bowl, mix vinegar and parmesan, add oil, pepper and a little salt. The texture must be that of a cream (if necessary, add Parmesan). In a large salad bowl, mix the radicchio leaves with the sauce and sprinkle with chopped parsley leaves.
Herb salad
2 handfuls of rocket leaves
5 branches of fresh mint
5 branches of fresh coriander
5 branches of flat parsley
1 steak
2 artichokes with pepper
1.5 lemon
Extra virgin olive oil
Salt and pepper
Wash and squeeze the arugula and herbs. Roughly remove the spices, cut the steak in length. Prepare the artichokes: remove the outer leaves, cut the top, trim and cut into thin slices. Reserve the artichoke slices in a bowl of lemon water (to avoid oxidation). In a salad bowl, combine salad, herbs, duck and artichokes well drained. Add the oil, the juice of a whole lemon, salt and pepper.
Read also
Thomas Grunberg: "Whatever happens, I need my daily salad, it's my drug"