If we believe this screenshot of the Chinese social network Weibo published on Twitter by @ l0vetodream, we could have the battery capacities of the four iPhone 13s expected in the fall. It should be noted from the outset that this leaker has sometimes had good information, but its results are not entirely positive, it is therefore to be taken with the usual tweezers.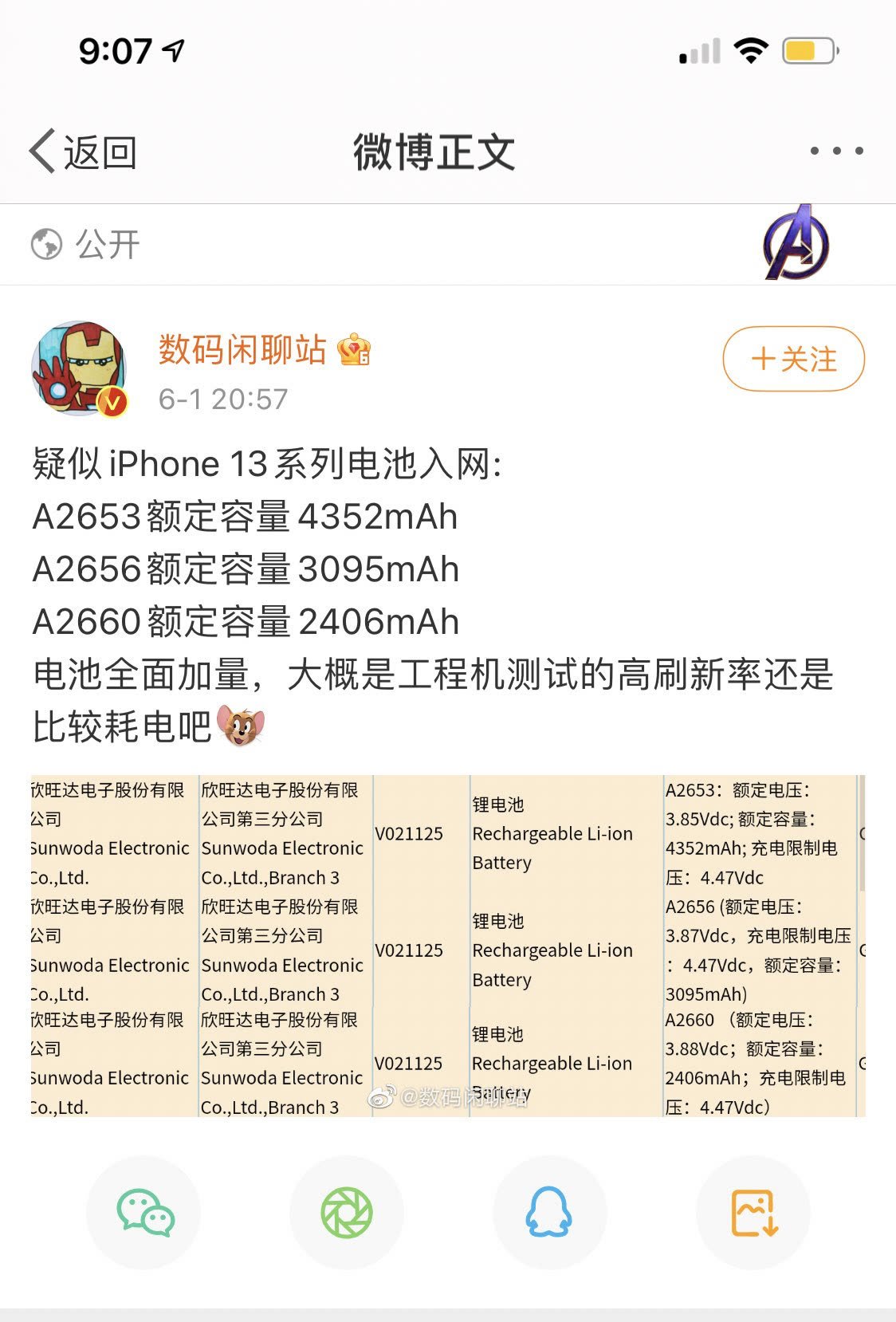 According to this new rumor, all iPhone 13s would benefit from increased battery capacity, from the mini to the Pro Max. At the entry level, the iPhone 13 mini would go to 2,406 mAh, against 2,227 mAh for the iPhone 12 mini. At the heart of the range, the iPhone 13 and 13 Pro would increase to 3,095 mAh, against 2,815 on the current equivalent models.
This represents a significant gain, from 8 to 18% depending on the model. Thanks to this additional capacity, the iPhone 13 could offer better autonomy, although it is not yet known whether these gains would be "absorbed" by other novelties. In particular, could the arrival of ProMotion on Pro models, which varies screen refreshment up to 120 Hz, have a negative impact on battery life and counterbalance these gains?
| Model | 12 | 13 | Gain |
| --- | --- | --- | --- |
| iPhone mini | 2,227 mAh | 2 406 mAh | 8% |
| iPhone / iPhone Pro | 2,815 mAh | 3095 mAh | 10% |
| iPhone Pro Max | 3,687 mAh | 4,352 mAh | 18% |
Anyway, this is the second rumor that evokes progress on battery capacity for this generation, after Ming-Chi Kuo last March. This would be particularly appreciated by (rare) iPhone mini fans, the current model not being one of its kind.