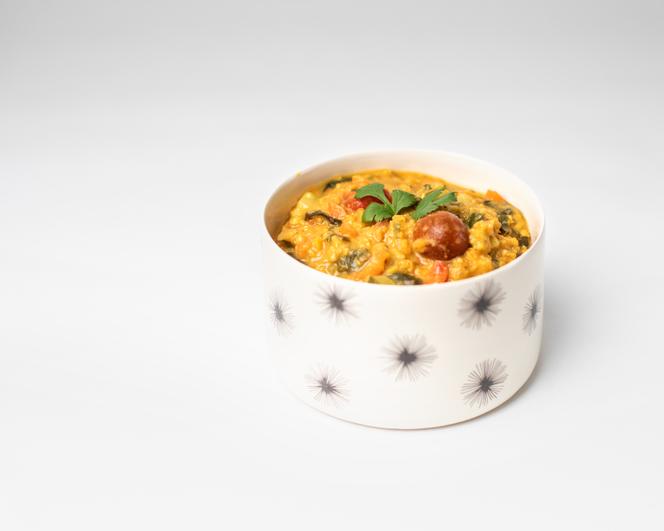 For 4 people
2 onions, 2 carrots, 1 zucchini, 300 g of red lentils, 250 g of organic tomato pulp, 200 ml of organic coconut milk, 1.5 tbsp. to c. curry powder, 1 tbsp. to c. mustard seeds, 1 tbsp. to c. of cumin, 2 cloves of garlic, 1 lemon, spinach, ginger, coriander.
Peel and mince the onions and a small piece of ginger. Cut the carrots into small cubes. In a large sauté pan, brown carrots, onions and ginger in olive oil over medium heat. Add a little water, cover and let brown.
Cut the zucchini, add it to the preparation, mix and pour a little water. Cover and cook for 5 minutes so that the vegetables lightly brown.
Add to the sauté pan red lentils, tomato pulp and 2 glasses of water. Cover, stirring regularly. Add the mustard seeds and cumin.
If all the water has been absorbed and the lentils are undercooked, add a little water. The lentils must be al dente to finish cooking in the coconut milk.
Pour in the coconut milk, add the curry, salt and cook for 5-10 minutes.
Serve and finish the dish with fresh coriander leaves.
collected by Addictips