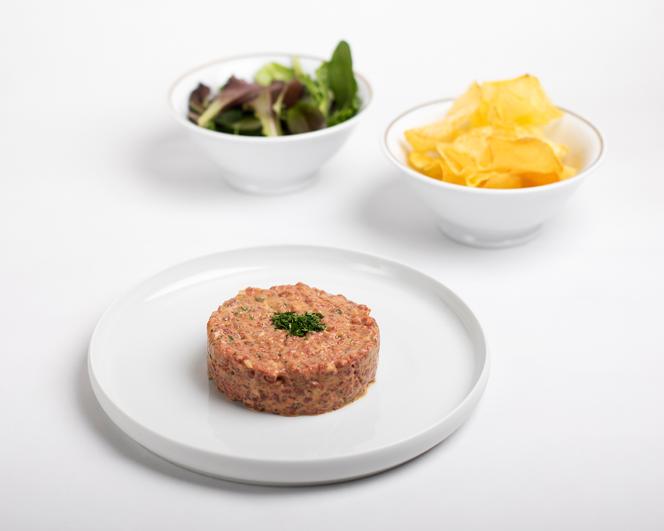 Ingredients for 2 people
300 g of beef tenderloin (or other tender pieces of Charolais beef), 2 organic egg yolks, 1 tsp. to s. strong mustard, 4 tbsp. to s. organic olive oil, 2 tbsp. to s. ketchup sauce (or tomato paste), 2 tbsp. to s. Worcestershire sauce (English sauce), 1 tbsp. to c. of wasabi paste, 2 cl of cognac (flambé if possible), 2 chopped new onions (white and green), 1 tbsp. to s. small capers, ½ bunch of chopped flat-leaf parsley, salt and freshly ground pepper.
Preparation 15 minutes
Cut the meat with a mincer or knife. In a hollow container, mix the egg yolks with the mustard, then add the olive oil very gradually, whisking the mixture with a fork to make a thick mayonnaise, in which you will pour the ketchup, the English sauce, wasabi and brandy. Season with salt and pepper. Mix, taste and adjust the seasoning. Stir in onions, capers and parsley. Arrange the minced meat on the tartar sauce. Mix well with a fork. Dress with a metal circle or simply make a regular dome in the center of the plate. Garnish with a small sprig of parsley. Serve with French fries or crisps, and a fresh salad (mesclun or crunchy sucrine).
Read also
"My job is to tell the history of the restaurant to our guests"
NB: at the restaurant, return your steak tartare if it is served to you with the egg yolk in its shell placed on the meat, because the eggshell is a breeding ground for bacteria!
Find here all the recipes of World.