Carrying all your motorcycle equipment in a travel bag requires paying attention to various criteria such as the dimensions of this luggage, its strength, its practical aspects and, of course, its price. MNC gives you all its tips and tricks in this video guide!
The travel bag is essential for convenient and secure transport of all your motorcycle equipment in order to participate in a training, a competition or an event away from home. The most common "biker" format is a large tote-type bag with wheels to easily tow it to your car, in the paddock, at the station or at the airport.
Le Journal Moto du Net, on the strength of its numerous trips around the world to test motorcycles and scooters since 1999, presents in this practical video guide below all the essential elements to choose the right suitcase according to your needs. Format, quality, loading, prices: all these areas and many others are analyzed by MNC.
Choosing your motorcycle travel bag: what to remember
The recommended capacity of a motorcycle travel bag is between 120 and 150 liters, in order to comfortably slip in your suit, helmet, boots, gloves and spare parts (or its motocross equipment). Most are made of waterproof polyester-type canvas. Common dimensions range from 85cm to 95cm long and 40 to 45cm wide.
Models that are too bulky are to be avoided for the plane, otherwise they will be oversized like our 150 l Alpinestars Komodo bag (also available in Marc Marquez colors): its 94 cm slightly exceeds the length tolerated by Air France, which we 'Checks in "Baggage oversize" … so far at no additional cost.
Prefer a bag with a retractable handle and wheels to move it easily: the set quickly exceeds 20 kg with full equipment, change and some "extras" (toilet bag, cameras, spare parts) …
Robustness is fundamental: quality zippers, reinforced corners and rigid bottom are fundamental to avoid unpleasant surprises. Cheap "supermarket" bags often ignore these aspects to contain their price between 50 and 80 euros. MNC's experience bears witness to this: it is a "false-good" economy.
The practical aspects are appreciable with a bag used frequently: separate compartments to separate boots and clothes, mats to change dry feet, adjustable straps for easy transport, internal and external pockets. Examine, literally, your future baggage from all angles!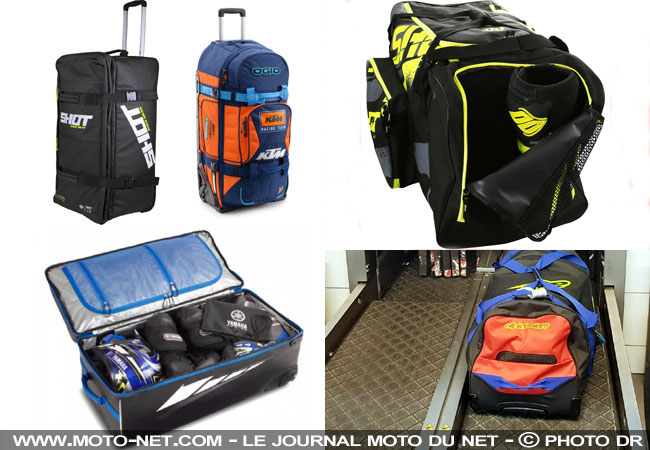 Most motorcycle equipment manufacturers make travel bags with a size of 100 to 150 liters, for prices generally between 150 euros and 280 euros. Manufacturers like Yamaha also offer them in their own colors in partnership with specialized baggage handlers like Ogio.
Several store chains also present luggage of this type: Dafy Moto notably distributes the Shot and Thor brands and their interesting travel bags at affordable prices such as the 120-liter Shot Climatic for 113.95 euros. Finally, you can find it in sports stores like Décathlon or Intersport.
The Italian manufacturer Givi has also developed a clever travel bag with a flat on the bottom to facilitate its transport on a motorcycle or a scooter: the UT806 model. This tote bag can be quickly hung on the passenger seat or on the luggage carrier thanks to this hollow format. The only downsides: its lack of wheels means it has to be carried on the shoulder while its capacity is limited to 65 liters. The photograph below nevertheless proves that it is possible to slip in a large number of objects and clothes with a little organization!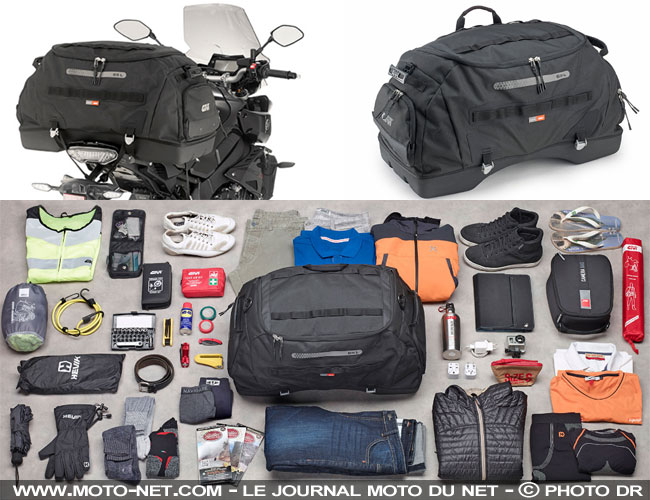 MNC video guide: choosing your motorcycle travel bag
(embedded content)
Let's block ads! (Why?)