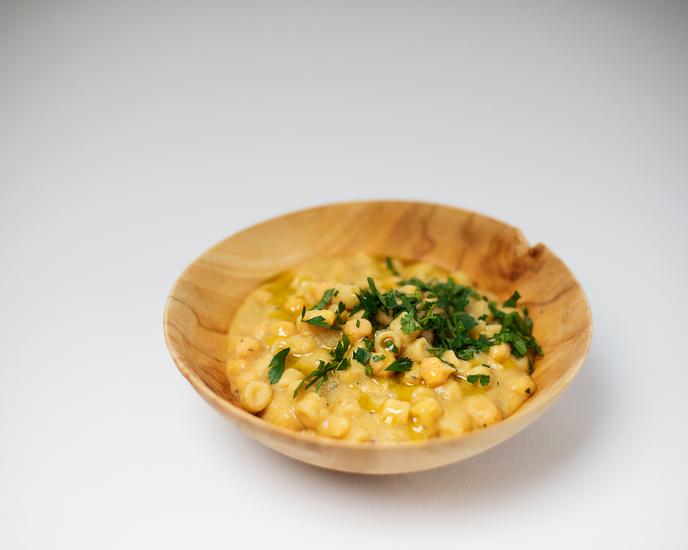 Preparation: 15 minutes.
Cooking: 1 hour to 1 hour 30 minutes.
For 4 people
1 large onion, peeled and minced,
1 stalk of celery, peeled and minced,
1 large carrot, peeled and thinly sliced,
1 clove of peeled garlic,
1 thick slice of pancetta, cut into strips,
800 g chickpeas (canned or dry and soaked for 12 to 24 hours),
2 l poultry or vegetable broth kept warm,
1 bunch of finely chopped fresh rosemary,
100 g of ditalini (small short and hollow pasta),
a few sprigs of parsley, basil or mint depending on the season, green and spicy extra-virgin olive oil,
fleur de sel, freshly ground pepper.
The preparation of the soffritto
In a little olive oil, sweat for 15 minutes without coloring the clove of garlic, onion, celery and carrot, sliced, pancetta cut into strips, chopped rosemary. Rinse and add the chickpeas. Cover with broth, cook 30 to 45 minutes, adding broth if necessary. Using a skimmer, set aside half the whole chickpeas in a bowl. Mix the rest to obtain a smooth soup.
The cooking
Return the reserved whole chickpeas, add broth if necessary, then the pasta. Adjust the seasoning during cooking. Stop cooking as soon as the pasta is al dente. Serve hot, with chopped fresh parsley or basil, and a drizzle of olive oil.
NB: in summer, you can make the variant with white beans, fresh tomatoes, basil pesto, grated fresh parmesan…