ADVERTISEMENT

"Open kitchen" on Saturday July 17, 2021. Like every Saturday evening, you have an appointment this evening on France 3 for a new "Open kitchen" issue. But it's summer .. so it's in replay mode that you will find your favorite cooking show
See you at 8:25 pm on the channel then in video streaming and replay on France.TV.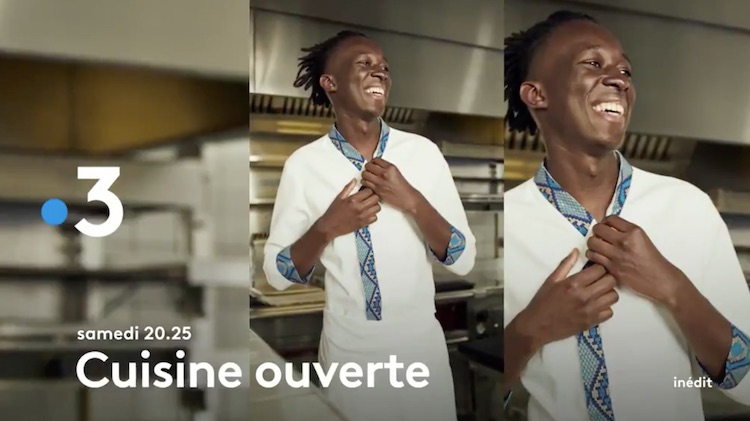 ADVERTISEMENT

"Open kitchen": what is it again?
An original concept around the rediscovery of French gastronomic heritage.
Cuisine Ouverte celebrates the heritage and diversity of French cuisine through a friendly and inventive exchange between cuisine from our regions and cuisine open to influences from around the world, led by chef Mory Sacko.

ADVERTISEMENT

At the heart of this culinary and cultural encounter: the transmission of knowledge and reciprocal influences, thanks to the presence of local chefs and producers who will highlight recipes and products from our regions.
A region, a chef, a recipe, a guest.
In each region of France, Mory Sacko first introduces us to a product and a recipe that is emblematic of its gastronomy. To do this, he goes to meet a producer and a local chef who share their secrets and teach us how to make this recipe according to the rules of the art.
Mory Sacko then sets up his open-air kitchen, in a symbolic place of the region, its landscapes, its culture, or its heritage. This is where he reinterprets, with the influences that characterize him, the traditional recipe of the week. He is accompanied by a guest who has a special link with this region or this dish, for a moment of exchange around the cuisine and the local heritage.
For the tasting of the dish, the local chef returns to sit around the table to taste Mory Sacko's recipe in the company of the guest and a few guests, always outdoors, in the heart of the region's landscapes.
"Open kitchen" for Saturday July 17, 2021: tonight's recipe
Like every week our starred chef will once again make us rediscover the richness of French gastronomy and reinterpret a dish from our rich terroir!
As these numbers have already been broadcast, you will have to wait until tonight to discover the recipes of the day.
🥘 Rediscover the richness of French gastronomy with the chef @Mory_Sacko_ which reinterprets the dishes of our terroirs! #Open kitchen, every Saturday at 8.25 pm and in replay on https://t.co/yQP3ERg4d4 ►https: //t.co/R6wzAFI7rk pic.twitter.com/vIiPWS0rir

– France 3 (@ France3tv) July 15, 2021
Ingredients, steps and recipe instructions
Every week Mory Sacko offers us a new recipe! During a previous unprecedented program, he offered us an aioli of monkfish and tender vegetables.
The ingredients of this recipe
– 350 gr of monkfish
– 4 mini carrots with leaves
– 4 mini turnip tops
– 4 mini beets
– 1 large raw beet
– 1 mixture of cress
– 2 egg yolks
– 1 teaspoon of mustard
– 1/4 liter of olive oil
– Salt
– Pepper
– 1 lime
Instructions, procedure, different steps and training… In short, to find out what to do with all this, go directly to ➥ France.TV
SPONSORED LINKS