With MUI 12, Xiaomi is making major changes to its software, after having upgraded part of its hardware. We were able to access the beta update on a Xiaomi smartphone, the opportunity to tell you what we thought about it. SPOILER: it's pretty positive.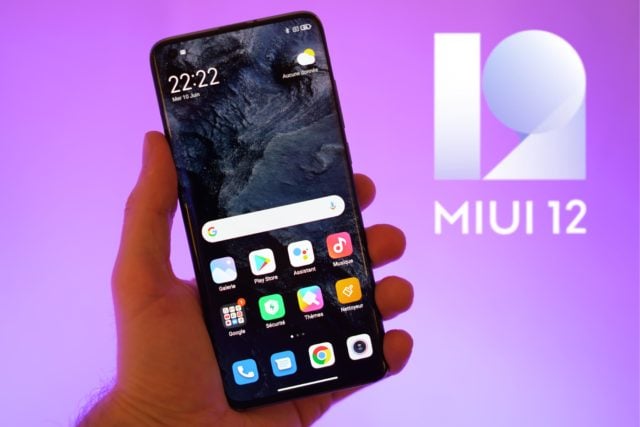 After having gone upmarket with its latest Mi 10 and Mi 10 Pro, Xiaomi is now drastically developing its software with MIUI 12. The good news is that MIUI 12 will also be available on the least expensive smartphones of the Mark. In its twelfth iteration, MIUI sees it big and has many features, in addition to a significant refresh of its interface. Thus, room is made for all kinds of animations, with a rather spectacular side, but also with the arrival of a brand new dark mode, and new privacy protection parameters, previously one of the black points of the brand. This update will be distributed on Xiaomi smartphones from the end of June, starting with the Mi 9, Mi 9T and Mi 9T Pro. Ultimately, around thirty smartphones will be compatible. Here is our introduction to the new features brought by MIUI 12!
A lively interface
The first novelty of MIUI 12 is clearly visible. The interface has indeed been completely revised to give pride of place to all kinds of entertainment. First of all, there are these new wallpapers, the "Super Wallpapers". These are images of the Earth, the Moon and even Mars which have been supplied to the brand by NASA itself. When unlocked, we are therefore entitled to a rather spectacular animation which literally makes us "land" on the home screen with panache. If some may find it too much, we admit to having been rather seduced by this animation which has its effect. It is of course possible to choose a "normal" wallpaper if you do not want to be dizzy every time you unlock your smartphone equipped with MIUI 12.
In the interface itself, Xiaomi continued the work by adding many animations everywhere. Rather than overloading the interface, these animations make navigation very pleasant, and above all, natural. The Mi Render Engine, designed to speed up animation, does its job perfectly, and we have never encountered any lag anywhere, even on this beta. In this regard, note all the same that we had access to this early beta on a Xiaomi Mi 10 Pro, which has a screen clocked at 90 Hz as well as a Qualcomm Snapdragon 865 SoC. The animations were therefore particularly fluid , but it will be necessary to test all this on more modest smartphones in order to see if any slowdowns occur.
Dark Mode 2.0
On the aesthetic side, Xiaomi has also introduced a brand new dark mode with MIUI 12. It turns out to be active not only in the interface and all Xiaomi apps, but also with all third-party apps. You will therefore not have to activate the dark mode on a case-by-case basis in the settings of each practical application. In fact, we find this rather successful dark mode, especially on an OLED screen, and perfectly readable, in particular thanks to the various transparency effects introduced here and there in the interface. This mode also adapts to the time of day by varying the brightness, with a more or less marked effect.
Control center detaches from notifications
In terms of the interface itself, Xiaomi has improved a lot, with operation that is still very similar to iOS. Thus, not only are transparency effects omnipresent in the interface, but MUI 12 now separates the control center from the notification panel. As with Apple, you will have to go get the upper right corner of the device to lower the control center, with a completely revised design. As for the notification panel, you can access it by sliding your finger anywhere else on the upper edge of the smartphone. It will certainly get used to this change, but the idea of ​​separating these two functions makes sense, and is already quite effective at Apple to quickly get a setting or a notification without mixing everything. We will now find this good idea at Xiaomi! Gesture navigation also seems closer to what an iPhone offers than an Android smartphone, with animations that make navigation perfectly smooth.
Application drawer returns
The application drawer has also been redesigned. Completely absent from the release of the Mi 10 and Mi 10 Pro, Xiaomi finally gave in to criticism and immediately integrated it into MIUI 12. The brand had the good idea to copy practically line for line the application drawer of Android Stock, which turns out to be perfectly functional and efficient. It is, in fact, the same application drawer found on the "Poco Launcher" of the Pocophones, if you are ever used to the brand.
Floating windows
In MIUI 12, Xiaomi has gone to great lengths to allow its users to take advantage of the large panels available on the brand's smartphones. Thus, the new Picture in Picture mode – or floating window – makes multitasking much more efficient than before. Concretely, you will be able to display any app in a small window that you can move, without that this encroaching on the content that you were watching before. We found this mode particularly practical, especially since it is activated very simply, in the menu displaying all open applications, or even when a notification appears. Everything is perfectly fluid, and gives a Xiaomi smartphone the look of a mini-PC.
MIUI 12 also offers many other new features, starting with better management of privacy protection parameters, a more precise sports tracker, a new energy saving mode, or a function thought out in the way 'an "AirPlay", Xiaomi version. In use, we were pleasantly surprised by MIUI 12. Despite everything, full of effects and animations, the interface could put off some who favor minimalism, and it will be necessary to test this interface on the most modest smartphones from the manufacturer to see if these animations will always be as fluid. In fact, we end up with an experience that is rather atypical and characteristic enough to stand out frankly from the competitors, without forgetting a slight leaning towards the design codes of a certain Californian brand. However, MIUI 12 offers a really good approach overall, and seems to be the perfect software interface to support the brand in its conquest of the world.
Mi 10 Smartphone Telephone …
New generation of Qualcomm Snapdragon 865.
Entering the era of 5G, support for 5G and Wi-Fi 6, reinforced by …
Redefine the limits of photography. Be the camera pioneer for …
Redefining the boundaries of the audio experience, a truly balanced and …