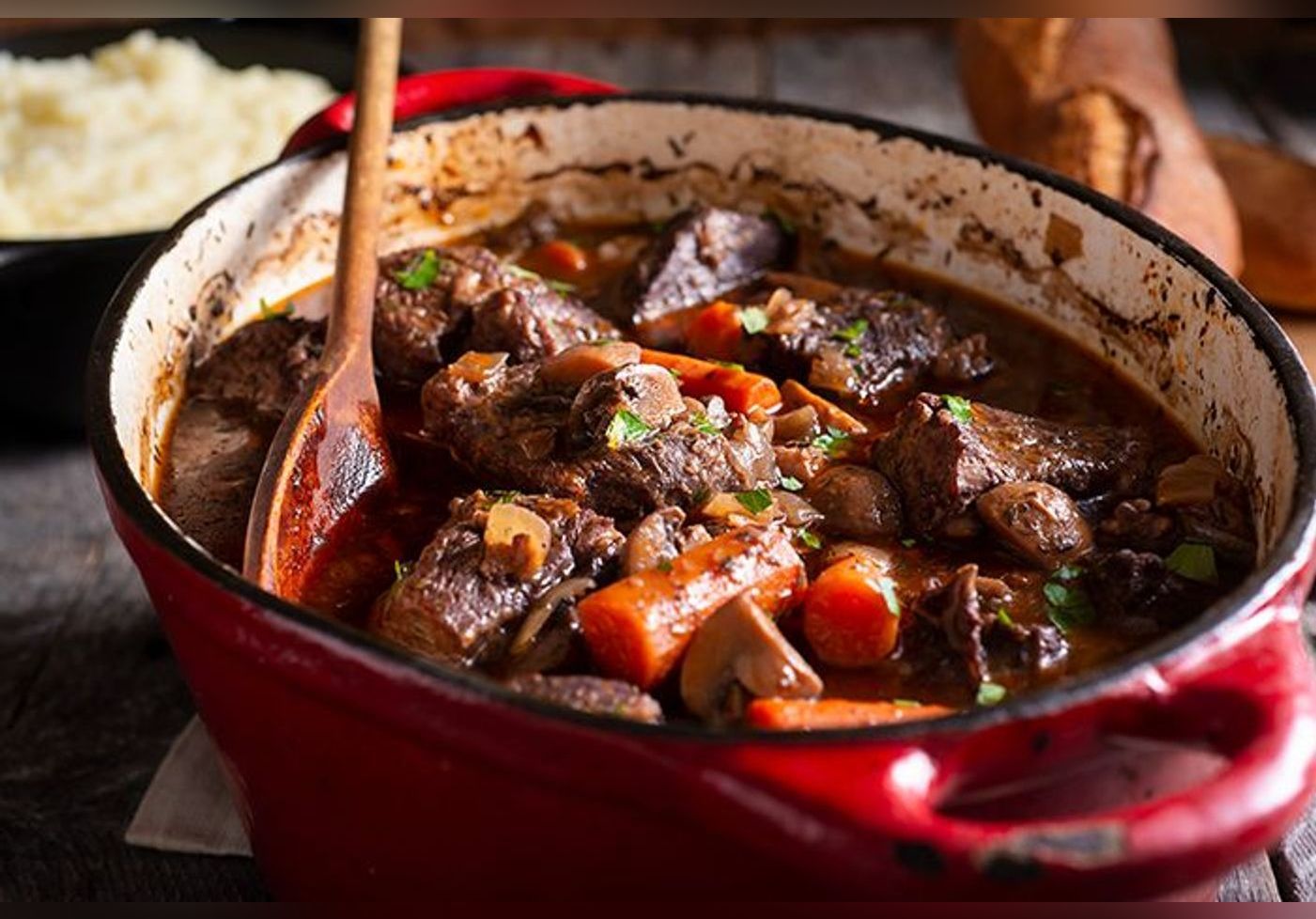 Nothing like a simmered dish to feast on! Our grandmothers knew it well and never hesitated to let their little dishes work for hours in a casserole dish. If the beef bourguignon, the veal blanquette or the lamb stew are among the great classics, there is a dish that has now fallen into oblivion: the veal marengo. This stew, made from veal shoulder, button mushrooms and sandwich bread, is said to have been born in 1800, during a battle between the troops of Napoleon I and the Austrians. At the time, the soldier's table manager, finding himself almost without food, decided to imagine a dish with what he found in the cupboards: chicken, tomatoes, garlic, crayfish, croutons of bread. … This is the birth of the marengo calf. Today, this stewed dish, which has evolved a lot over the years, is one of the great classics of French cuisine. In his show Small dishes in balance (TF1), Laurent Mariotte wished to restore his letters of nobility and put him back on the front of the stage. " Nothing like the classics to warm up! I tackled a forgotten essential … the marengo veal », Explains the host on his Instagram account, before revealing his recipe. Easy to prepare, this dish only requires a few ingredients and a little patience.
Here is the recipe for veal marengo by Laurent Mariotte (Small dishes in balance, TF1):
Ingredients:
700 g of sautéed veal (shoulder)
2 onions
5 cl of white wine
1 tbsp. of tomato paste
75 cl of brown veal stock, tied
1 bouquet garni
2 cloves garlic
250 g button mushrooms
4 slices of sandwich bread
2 knobs of butter
1 tbsp. chopped parsley
Sunflower oil
Salt and pepper
Preheat the oven to 180 ° C (th.6-7).
Peel and cut the onions into cubes. Brown the pieces of meat in the casserole dish. Add the onions and cook for 3 min. Add the tomato paste. Stir and cook for 2 min. Add the peeled and degermed garlic cloves, then the bouquet garni. Pour in the white wine and let reduce. Add the veal stock, salt and pepper, cover and bake for 1 hour 15 minutes.
Meanwhile, rinse the button mushrooms and cut them. Brown them for a few minutes in a knob of butter, salt and pepper. Cut large hearts in the height of the slices of sandwich bread and brown them in a pan with the rest of the butter and a drizzle of oil on each side. Dip the tips of your hearts in the sauce and then in chopped parsley. Arrange the meat in a serving dish using a skimmer, strain the sauce through a fine strainer over it, add the mushrooms, the sliced ​​bread hearts tip up, and serve.
[embedded content]
Also to discover: Laurent Mariotte unveils his cookie recipe and it's very tasty
collected by Addictips