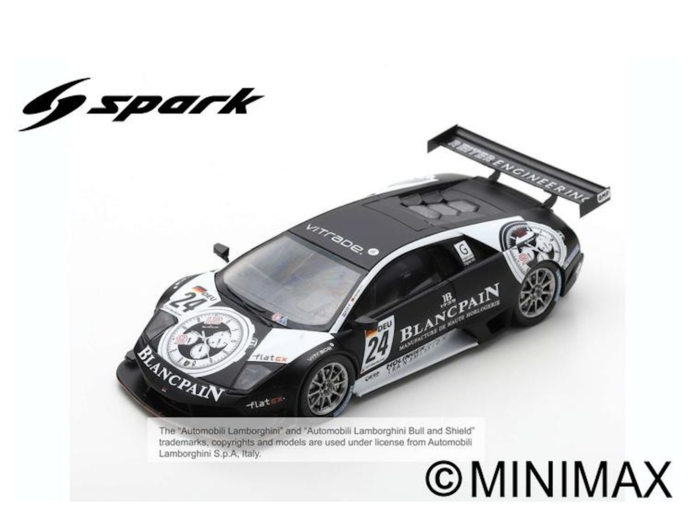 This is a real novelty that will delight fans of miniatures and lovers of the Italian brand Lamborghini since some models appear in the Spark catalog at 1:43!
Make way for the "old" with this superb Lamborghini Murcielago LP670 R-SV GT1 from Reiter Engineering which took part in the FIA ​​GT1 World Championship in 2010. (ref: S9605). Peter Kox and Christopher Haase shared the wheel of this GT1 sporting the # 24. Of the seven meetings in which the duo participated, against the Aston Martin DBR9, Maserati MC12, Nissan GTR, Ford GT and other Corvette C6-Rs, the best result obtained was a second place at the Nürburgring on August 29, 2010, i.e. just 10 years old! Already ten years that we have all fantasized in front of this superb GT1 field … And even today, all those who like us have experienced this short, but sumptuous GT1 championship would pay dearly to see all these over-vitamin GTs fighting new battles! Dreaming is not forbidden … A 7th place (Portimao), an 8th for the opening of the championship in Abu Dhabi and the 10th place under the checkered flag in San Luis had rewarded the efforts of the crew.
Head to the Spa circuit and the 2015 and 2019 editions of the 24 Hours for the first two Huracan GT3s presented today. Andrew Palmer, Jeroen Mul and Fabio Babini took turns behind the wheel of this # 19 Huracan GT3 entered by the GRT Grasser Racing Team. The car was racing in its traditional green dress and despite a start in 49th place, the team will not cross the finish line. (ref: SB282).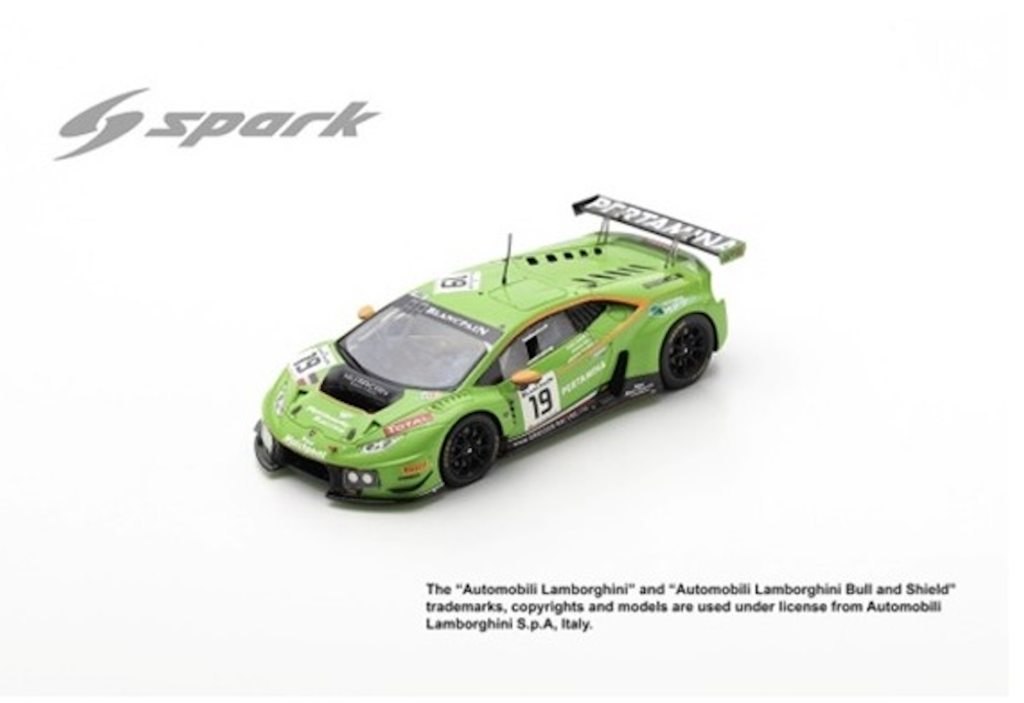 Ombra Racing came to the end of the Total 24 heures de Spa 2019 in 37th position with this Lamborghini GT3 in bib # 12. Dean Stoneman, Stefano Gattuso, Denis Dupont and Corey Lewis made up the Italian's crew that entered the Silver Cup. (Ref: SB314).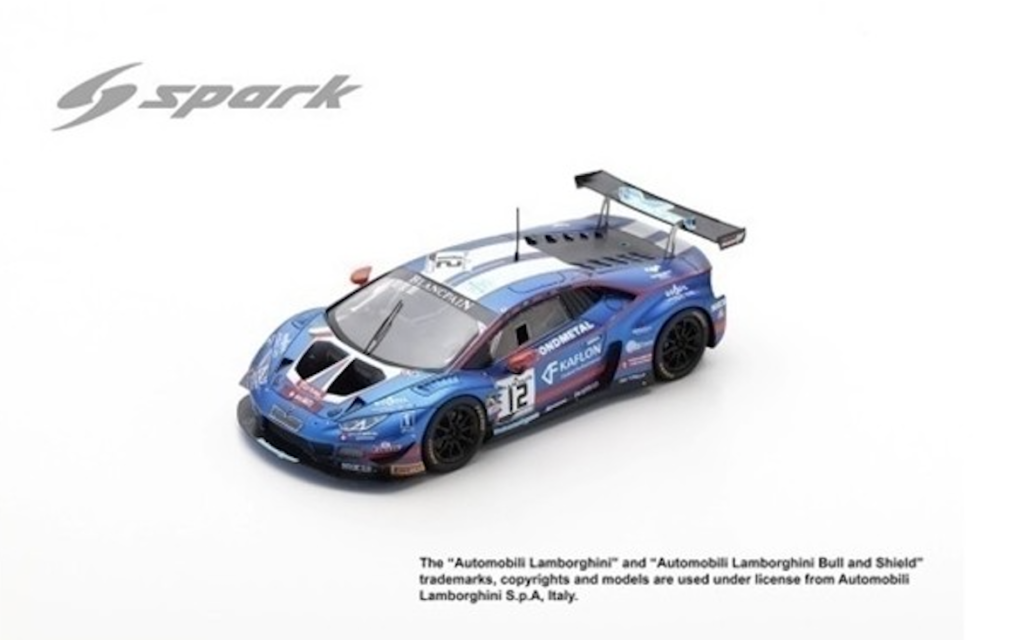 Let's head to the Nürburgring now, not far from Spa, for the 2016 double clock with Konrad Motorsport and its Huracan GT3 wearing the # 25 and its traditional pale green. Having started 19th, Christopher Zöchling, Franz Konrad, Luca Stolz and Dominik Farnacher will not make it to the checkered flag with a retirement in the event. (ref: SG573).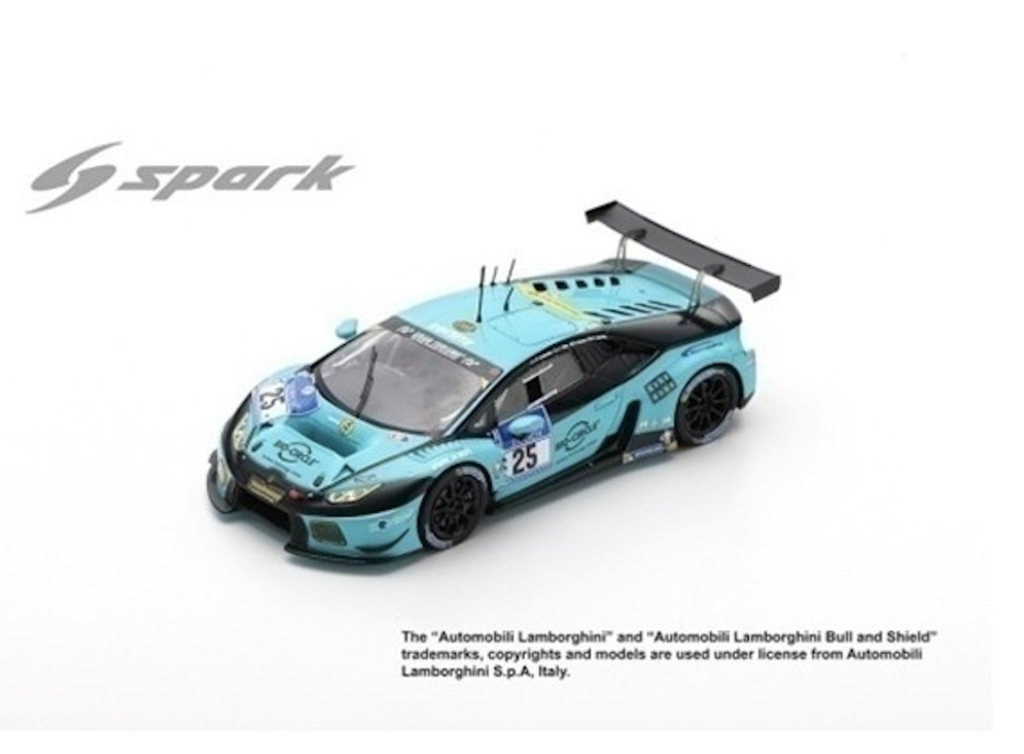 For the last Italian presented today, it is in Bathurst that we are going for the 12 hours of the same name contested in 2019. A. Deitz, J. Westwood, C. McConville and T. D'Alberto finished the race in twelfth row with this Lamborghini with its special decoration and number # 6. GT3 entered by Wall Racing which finished the race with five loops of the victorious Porsche. (ref: AS056).