Unthinkable today to use our iPhone without protection. Although the iPhone X, XR, XS and 11 are water and dust resistant, they are not immune to scratches and the risk of breakage. In addition, the hulls have become a real way to distinguish themselves by personalizing this object that we use so much everyday.
Among the plethora of protections for iPhone, we were able to test several products RhinoShield, a player that stands out for quality accessories, focused on customization and robustness foolproof. And to take advantage of their high-end products at a lower cost, RhinoShield offers you right now 10% discount on your cart, by entering the code "RhinoGen" when placing your order.
Overview of what the manufacturer offers that has combined strength, aesthetics and above all, customization.
Overview of Rugged, Customizable and Scalable RhinoShield Shells
RhinoShield offers different types of iPhone cases. We had the opportunity to try the entire range on a black iPhone XR. Believe us, there is something for everyone!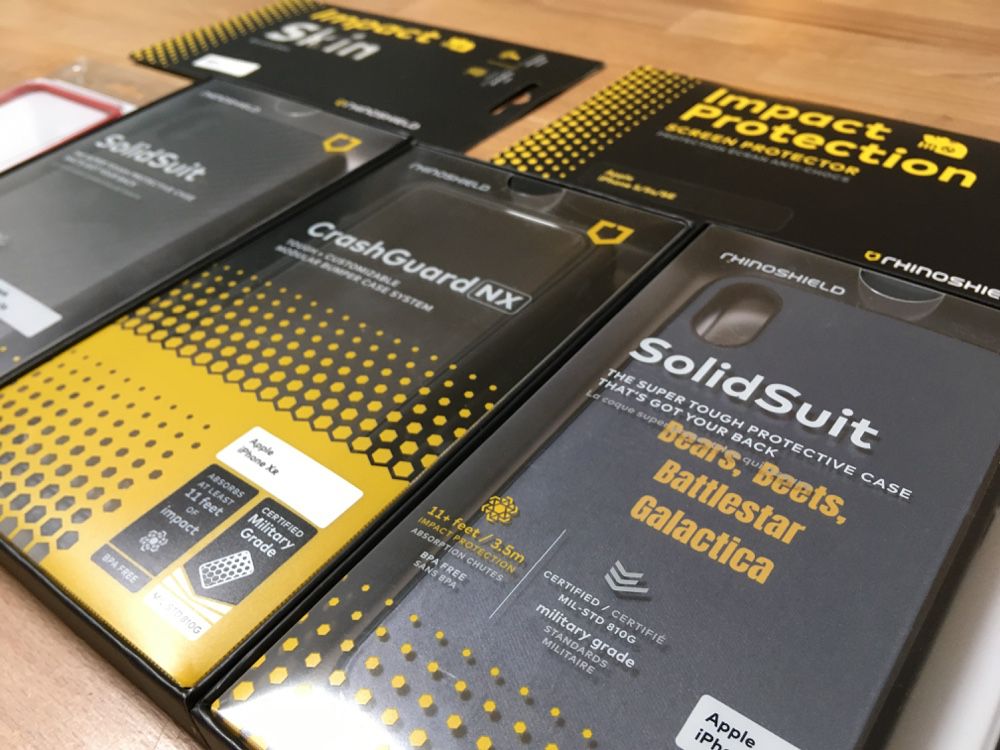 Here are the three main hulls RhinoShield offers:
SolidSuit, a slim shell with a premium finish for maximum protection
CrashGuard NX, the modular bumper shell
Mod NX, an ultra-resistant modular shell
SolidSuit shell by RhinoShield: durable, stylish and fully customizable
We put on the test bench two SolidSuit shells by RhinoShield. One in carbon fiber finish and the other, personalized by us, previously online when ordering.
Available in several colors (black, gray, white, pink), different materials (wood, leather, microfiber), it is even possible to affix on its shell one of the many designs available on the RhinoShield website. As much to tell you right now that the possibilities are almost infinite!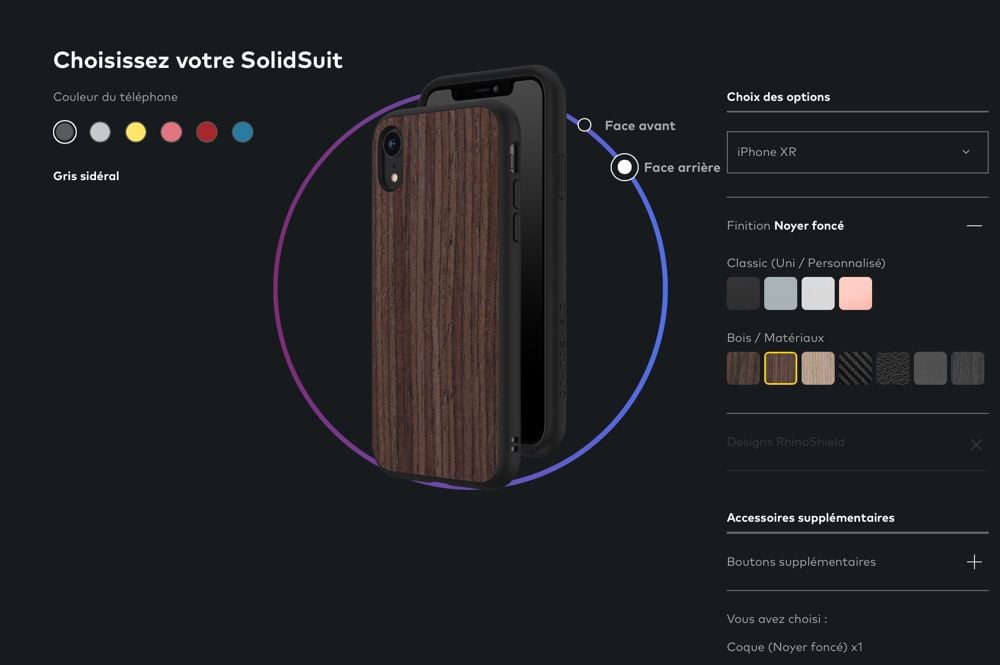 But it's not over, since it's also possible to customize them yourself on the RhinoShield website. We made the test to create our own shell, taking care to choose a background color (gray), a color for the borders (black), and a text in orange (in this case, a reference to the series The Office).
The customization page is very complete, in addition to being extremely pleasant to use.
Here is the result, very well finished, for our custom SolidSuit shell on a black iPhone XR: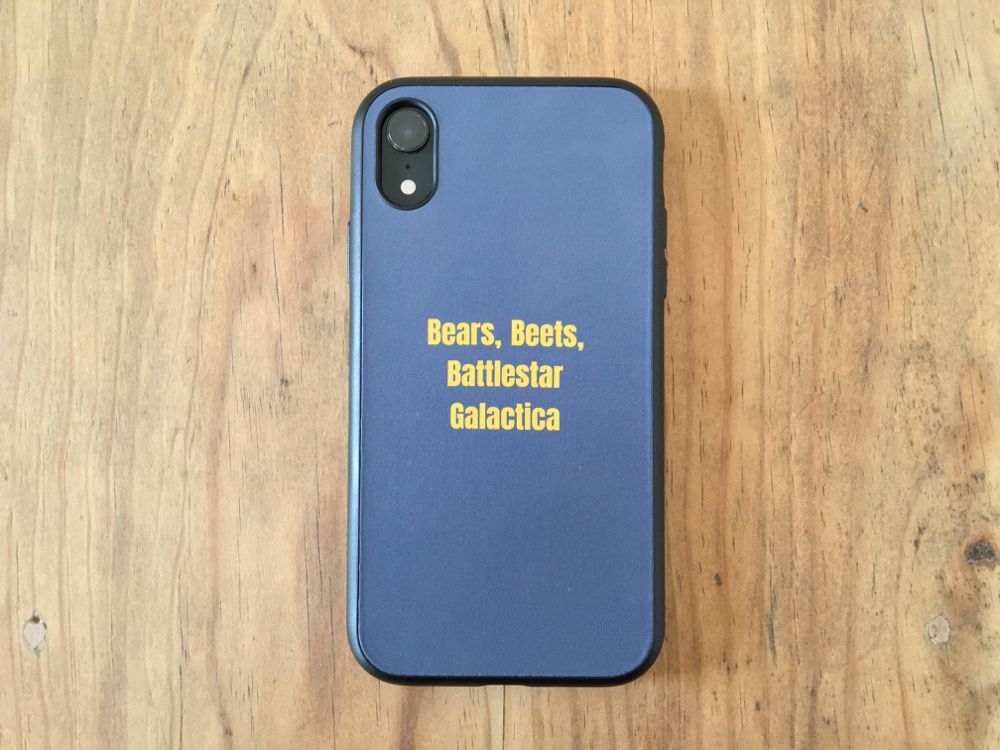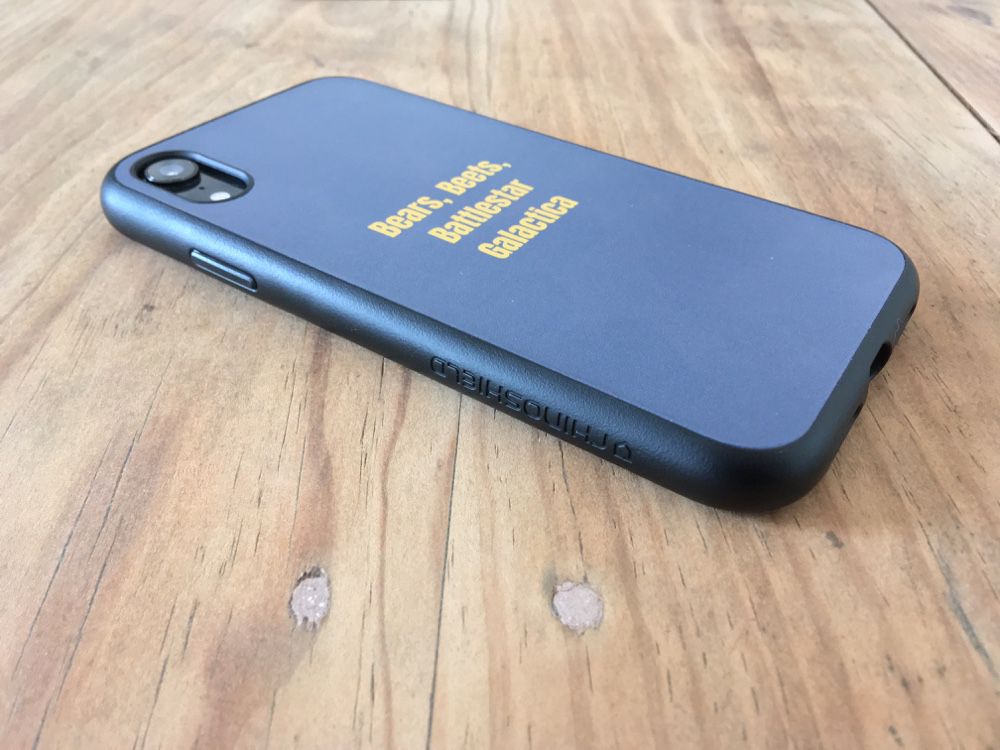 And here is the non-customized SolidSuit (in carbon fiber finish) that we also tried on an iPhone XR: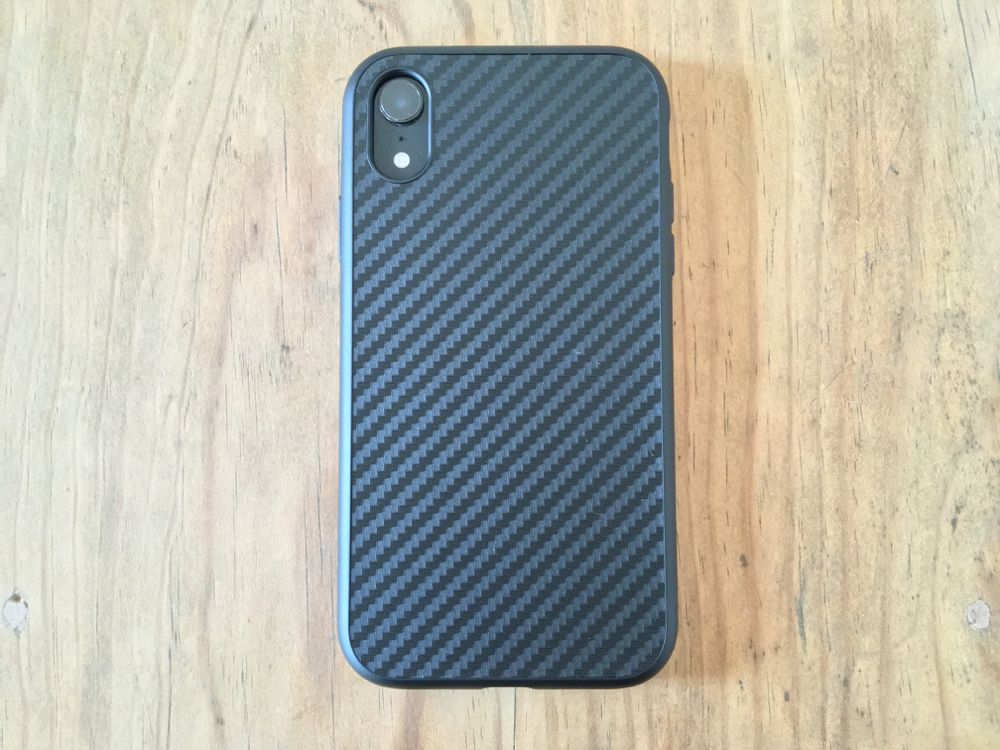 This semi-rigid hull, with its matte finish and honeycomb structure, can remain discreet while reliably protecting the iPhone. The curbs are fully protected, and the ShockSpread ™ material provides shock absorption in the event of a fall. The grip is nice, plus the ability to further customize the shell using interchangeable colored buttons (on the volumes + and – and the lock button).
CrashGuard NX & Mod NX bumper shell by RhinoShield: hundreds of possible combinations
We also had the opportunity to try CrashGuard NX fully modular Bumper hulls. Made from ShockSpread ™ polymer alloy, they absorb impacts of at least 3.5 meters high, while being 20% ​​thinner than other similar hulls on the market.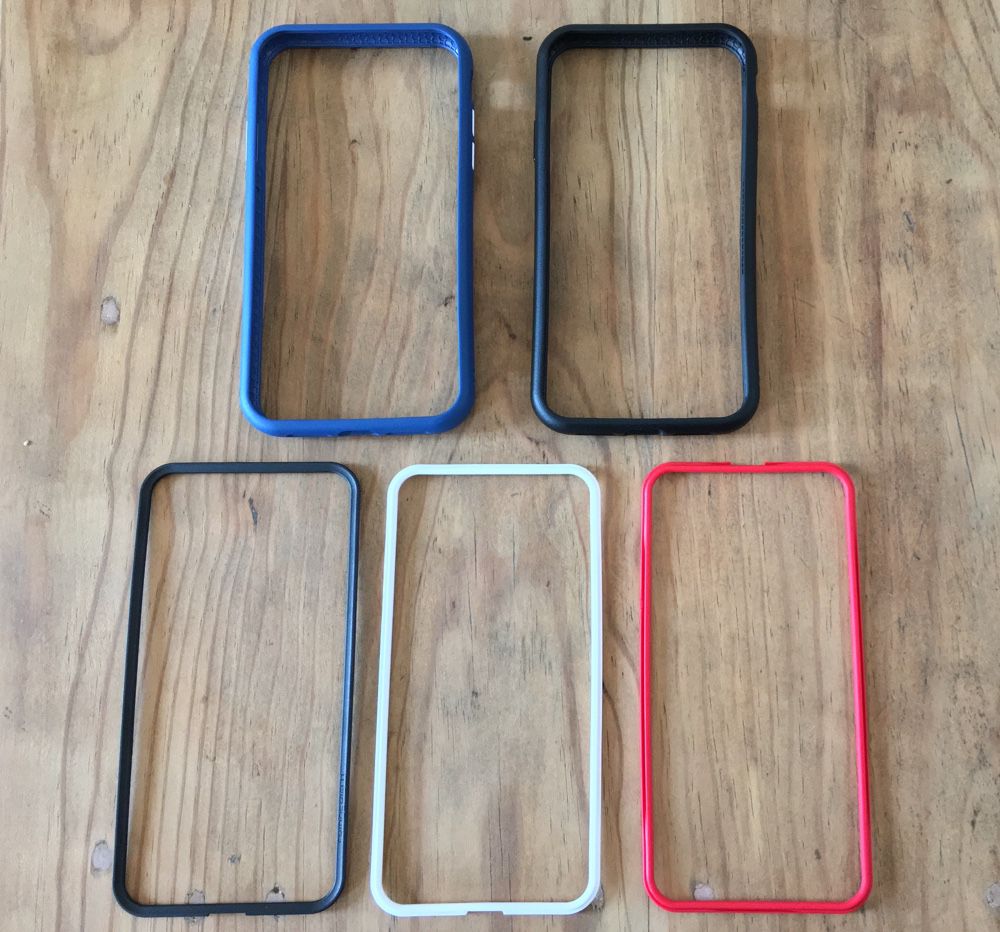 Real signature of RhinoShield, the shells are fully customizable and the combinations are uncountable, since it is possible to:
Choose the color of the shell (13 different colors)
Choose the color of the border or "Rim", element that is placed and removed separately (14 different colors)
Choose the color of the buttons (19 colors)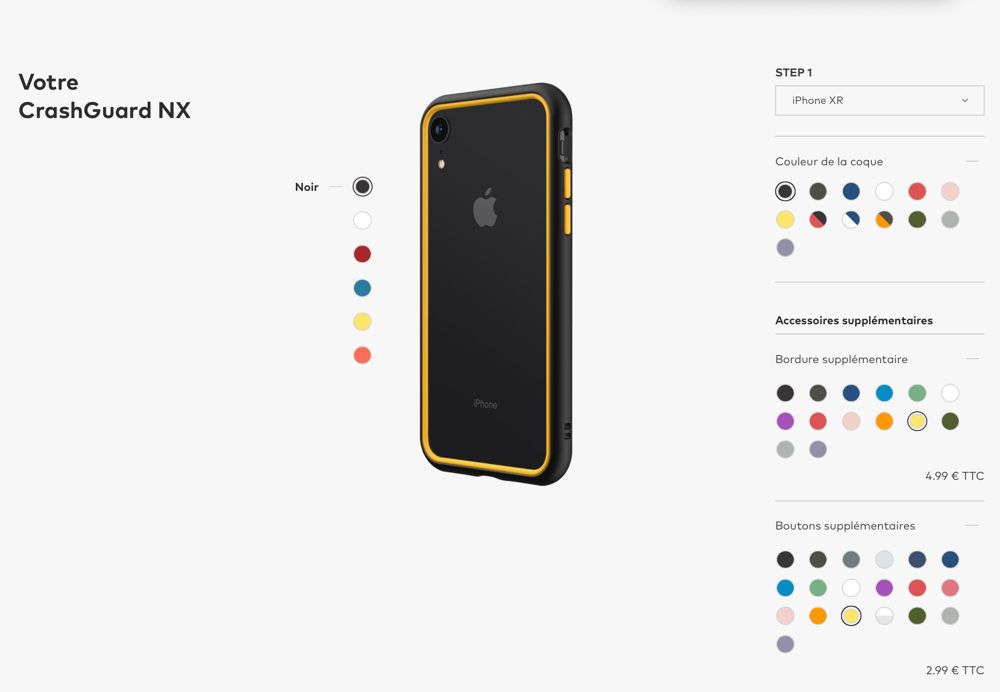 Here is the excellent rendering of a blue CrashGuard NX shell, with white border and white buttons on our iPhone XR: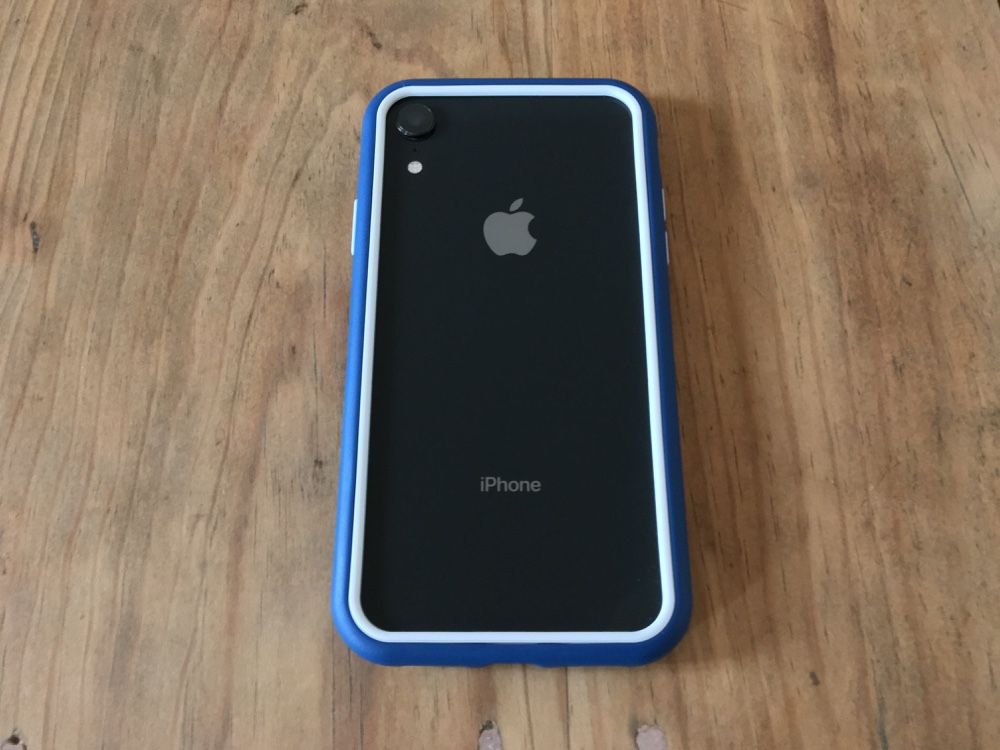 Finally, RhinoShield also offers Mod NX bumper type hulls, customizable by color, by the borders, but also by the backs, funds that clipped directly to the back of your smartphone thus making your bumper shell complete.
The installation is intuitive and the possibilities, again, almost endless, as the manufacturer offers different designs!
Here is the rendering of a black CrashGuard NX shell, black volume buttons and Mod NX with the "Geometric Wolf Head" design: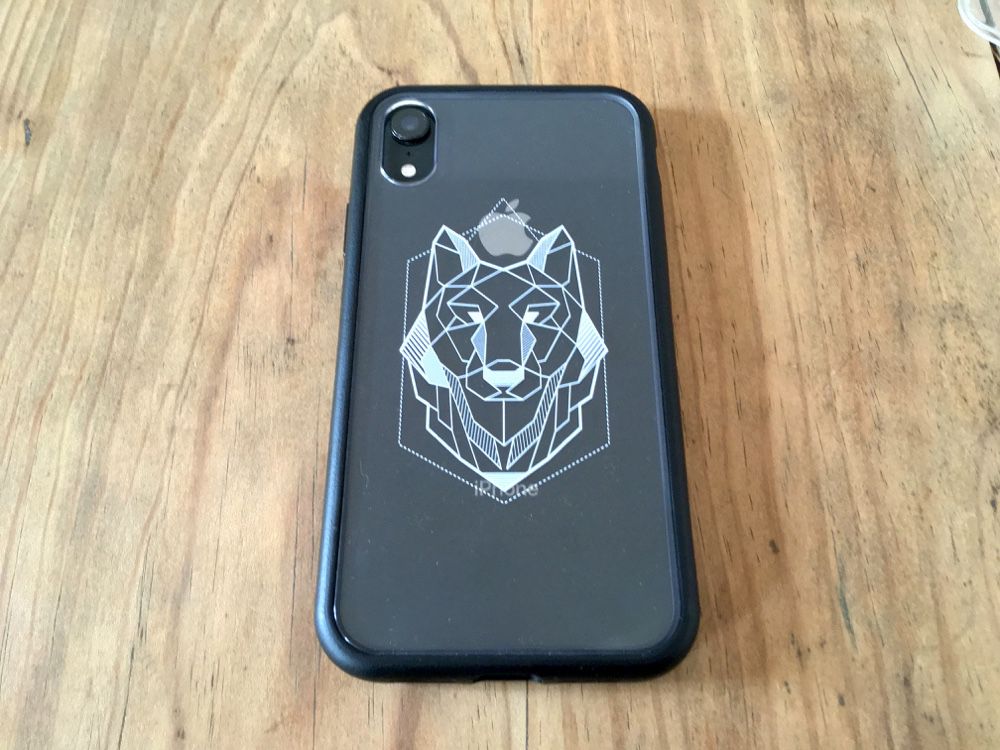 One last thing: here are the RhinoShield shock-proof skins
RhinoShield offers many types of products: lenses, cables, premium tempered glass, and accessories for the Apple Watch. But if you're not particularly fond of the hulls that almost completely cover your smartphone, a new range of original products RhinoShield has particularly attracted our attention: the new skins anti-shock.
Optimized to fit bumper shells (CrashGuard NX, Mod NX, Mod and CrashGuard), shock-absorbing skins provide protection against most everyday shocks (up to 5 times the force of an impact). Gorilla Glass 3 can support). In short, it's even possible to use your iPhone alone, without a shell, simply with the RhinoShield anti-shock skin. Of course, the borders will not be protected, however. But this keeps the original design of the iPhone without sacrificing security completely.
Here is the rendering of the "Titanium Noir" anti-shock skin on a black iPhone XR: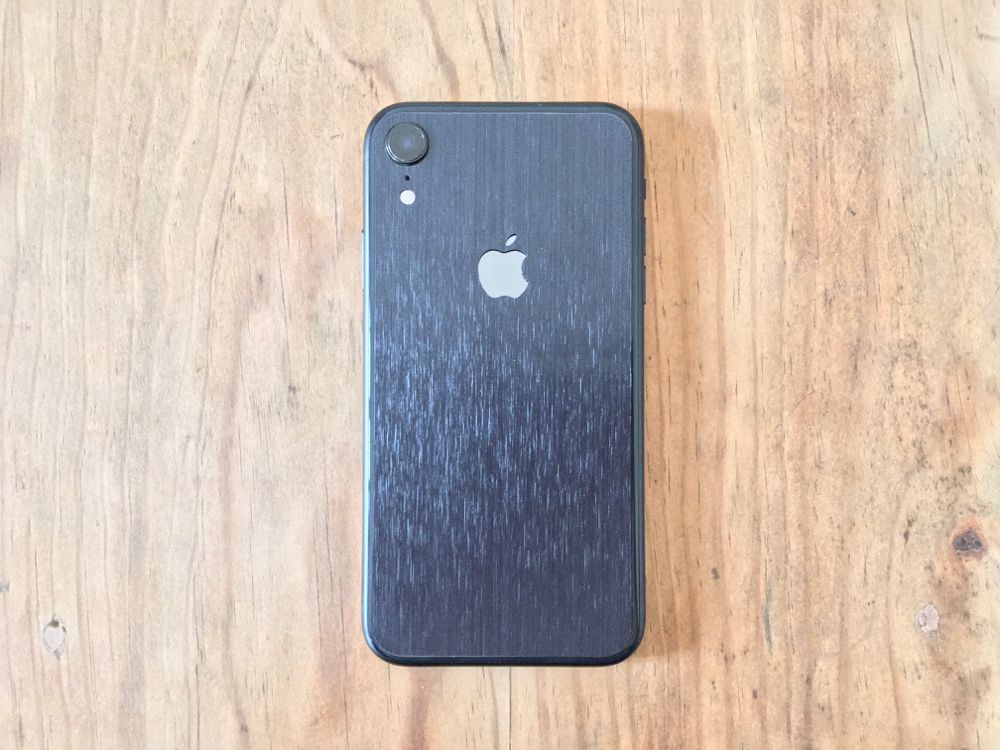 And here is the rendering of the skin coupled to a Black Crash Guard NX bumper shell, with white border: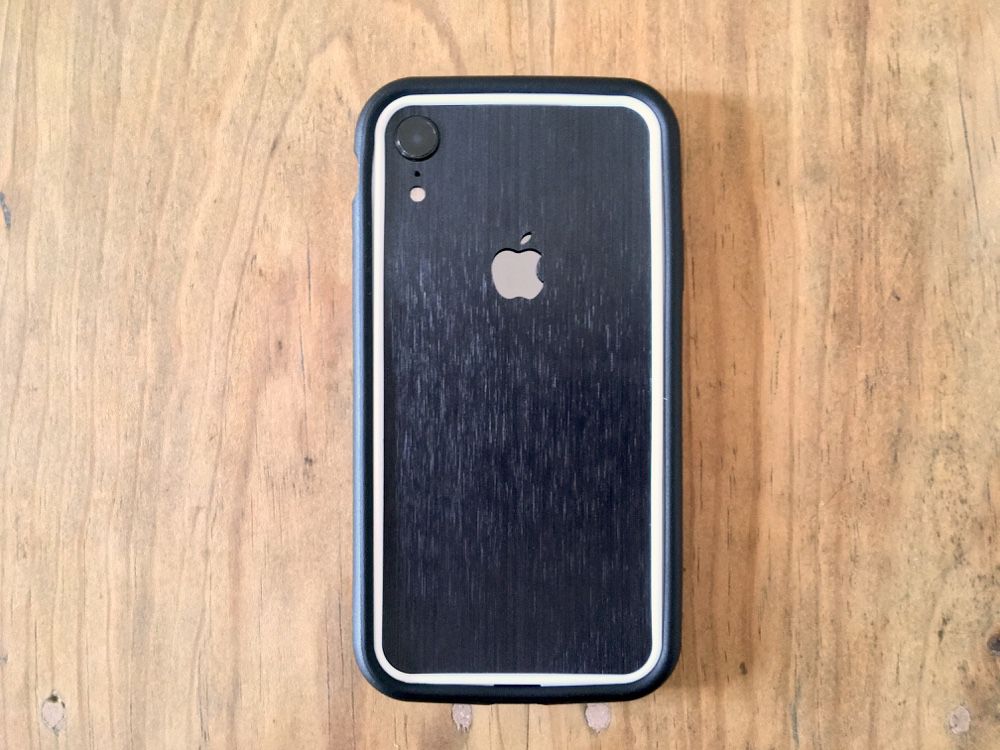 From the iPhone 6 and 6s to the iPhone 11, RhinoShield's impact-resistant skins are available in several colors: black titanium (test model), concrete, black carbon fiber and white marble.
Personalize your iPhone with RhinoShield protections
Whether SolidSuit, Mod NX, CrashGuard NX or the excellent innovation that is the shock-resistant skins, RhinoShield products are a reference for any user wanting to protect his iPhone while having the opportunity to make it even more unique and personal. With innovative and quality materials, as well as sober and neat designs, RhinoShield cases are for demanding iPhone owners who want to perfectly protect their phone while maintaining an elegant aesthetic.
Offering hundreds of possible combinations and robustness on a full range of protections for several brands (Apple, Samsung, Xiaomi, Huawei …) and Apple Watch, RhinoShield is one of the market leaders current.
👉 Protect your iPhone with fully customizable RhinoShield protections
📱 Remember: RhinoShield offers you 10% discount when validating your order by entering the code "RhinoGen"!