After a slew of audio products, Huawei unveils its FreeBuds 4, wireless headphones that rely on an open fit format while offering noise reduction.
Huawei may have lost some ground on the smartphone side since the US sanctions preventing it from installing Google services on its devices, this does not prevent it from continuing its journey in the world of audio. Thus, after the FreeBuds 3 last year, the FreeBuds Pro and, more recently, the FreeBuds Studio headphones or the FreeBuds 4i, the Chinese brand unveils its FreeBuds 4, a new true wireless reference.
These are no more and no less than wireless headphones as we now find in abundance on the market. However, Huawei's headphones have a strong argument: they offer an open-fit format – and not in-ear – as well as active noise reduction. Therefore, they could represent a great alternative for those looking to isolate themselves from outside sounds without sinking silicone tips into the ears. Do they keep their promise? Answer in this test of the Huawei FreeBuds 4!
Huawei FreeBuds 4 at the best price Base price: 149 €
See more offers
Design, Ergonomics and Autonomy
The least we can say is that Huawei's FreeBuds 4 are not really original… But that does not prevent them from benefiting from an impeccable design. The plastic feels solid and the opening of the case does not suffer from any play.
In terms of look, the FreeBuds 4 are similar to their direct predecessors, the FreeBuds 3. In fact, we are very close to classic Apple AirPods, with this rod-shaped design which has become very common today. Note that the headphones have an IPX4 certification, which ensures them resistance against splashing.
On the other hand, the charging case marks its difference from that of the Apple with its round shape. It's small, fits easily in a trouser pocket, and charges via USB-C from 0 to 100% in about 30 minutes. As for the headphones, they can be recharged in an hour inside the case and the latter will be able to refill them six to seven times on average. Unfortunately, this case does not benefit from induction charging.
Note that, unlike Apple, Huawei offers its headphones in several colors. We find the classic white (our test model), but also a metallic gray and red version (but only in China).
Regarding ergonomics, we were won over by these headphones. With their open fit format, they fit very easily into the ears and are completely forgotten in use with their featherweight of 4.1 grams. Nevertheless, it will be advisable to test this for yourself because this type of format is not necessarily suitable for everyone. Since they do not benefit from silicone tips, they could accidentally fall out of your ears depending on their shape because the headphones simply fit in the hollow of them. On our side, we did not encounter any problems and the FreeBuds 4 remained perfectly in place.
The touch controls of the FreeBuds 4 are also particularly well thought out. In addition to the classic double tap to start playback and pause or even the long press, Huawei had the good idea to integrate the volume control to the rods. Thus, all you have to do is slide your finger upwards to increase the volume, and vice versa to decrease it. This option works wonderfully, and it's a real pleasure to use. No need to take out your smartphone!
Finally, on the autonomy side, Huawei announces 4 hours per earphone and 22 hours in total with the charging case. In fact, the promise is more or less kept, even if the use of active noise reduction will logically drain the battery much faster than that. We still find that the autonomy is a little tight for headphones of this type, especially since they are ultimately quite large physically and we have seen many competing headphones – and much smaller – offer better autonomy. It is sufficient, but a little tight.
Application and Sound Quality
The FreeBuds 4 incorporate Huawei's Kirin A1 chip and use the latest wireless standard in the field, Bluetooth 5.2. This standard offers a few advantages, such as the ability to switch your headphones between multiple devices very quickly, as well as reduced latency. As for the supported codecs, we will find the traditional SBC and AAC, but also Huawei's L2HC.
As with the brand's other headphones, the FreeBuds 4 are based on an application, called AI Life, available on the AppGallery as well as the Google Play Store or the Apple App Store. You can therefore use them 100% regardless of your dairy. Obviously, the use of these headphones with a Huawei smartphone under EMUI 11 will have some advantages, especially when pairing and if you want to use the company's house codec, the L2HC, but you will not really lose it at the time of pairing. changes with a smartphone from another brand. On our side, we used them with an Android smartphone from OnePlus and an iPhone without any problem.
The application is clear and efficient. We find there the possibility of modifying the touch controls, to visualize the remaining autonomy as well as a very basic equalizer allowing to amplify, with the choice, the bass or the treble. It is also through this application that you will have to go to update the headphones, via a dedicated section. Note that there is also an option to find your lost FreeBuds 4 by making them ring at full volume. Convenient.
Finally, what about the sound of the FreeBuds 4? Huawei has integrated 14.3 mm diameter transducers, in the high average of what is done today on wireless headphones. Listening, we found the rendering rather correct and very dynamic, but the sound is still quite typical. We found that the FreeBuds 4 put a lot of emphasis on the midrange and, in particular, the treble. Depending on the style of music you are listening to, it can quickly become annoying, and, on our side, we preferred to boost the bass on the dedicated application. After this manipulation, the sound rendering suddenly becomes much more balanced.
When it comes to microphones rendering, the FreeBuds 4 do a great job. On call, my interlocutors could hear my voice distinctly, even when I was in a noisy street. Note that Huawei also offers an option called "HD Calls" in its dedicated application, to further improve the rendering of your voice.
Active noise reduction
Let's come to the main attraction of these Huawei FreeBuds 4: active noise reduction. Generally, this function is offered on headphones or earphones in the in-ear format, allowing passive noise reduction to be immediately offered. Therefore, the FreeBuds 4 start with a considerable disadvantage since the noise reduction will be completely managed in software.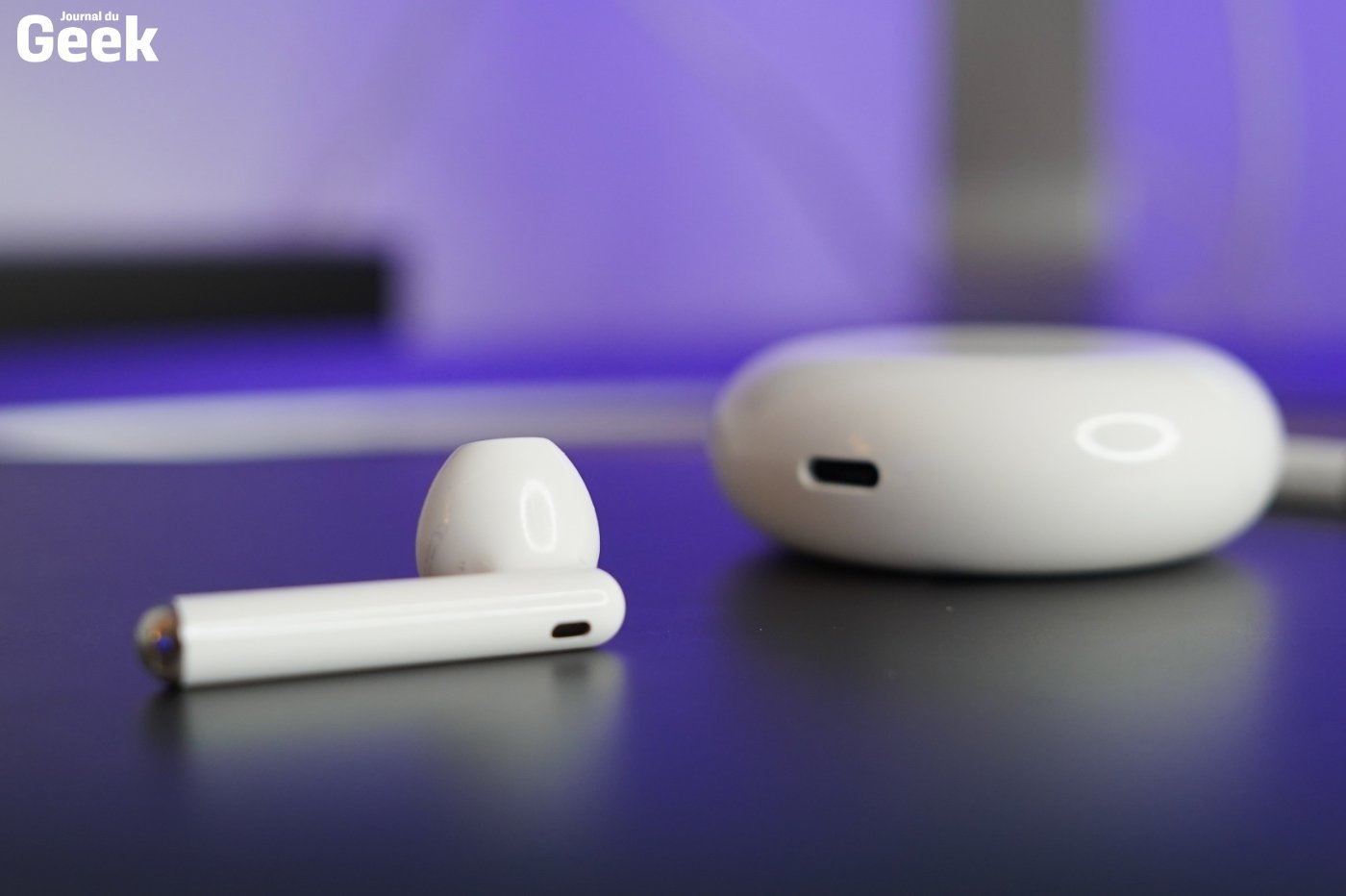 The manufacturer had already broken its teeth with its FreeBuds 3, which also offered the ANC with an open-fit format, with a frankly disappointing result. More recently, Samsung also landed with a similar promise on its Galaxy Buds Live, its famous bean-shaped headphones, but the result was far from in-ear headphones with ANC.
What about these FreeBuds 4? Already, we find that the headphones are doing much better than their predecessors, the FreeBuds 3. However, we are still a little skeptical. The brand announces a noise reduction of up to 25 dB, but the feeling provided by this function is actually very light. Indeed, the sound environment is less noticeable, but we are still far from the performance offered by headphones in in-ear format. So don't imagine being able to cut yourself off from the world.
It's still good to take, but make no mistake: if you're looking for excellent active noise reduction, the FreeBuds 4 isn't for you. On the other hand, if you see it more as a little extra to slightly reduce noise pollution around you, then they might convince you.
Huawei FreeBuds 4 at the best price Base price: 149 €
See more offers