Microsoft is offering the public a preview of its new Office application for Android and iOS. It brings together the main software of its office suite and several common utilities.
There will be a change in the office suite of Microsoft on mobile. The American publisher is preparing a new Office application, which will combine in one place the main software that compose it: Word (word processor), Excel (spreadsheet) and PowerPoint (presentation). Already, it is possible to test it in preview on Android and iOS.
Download Office on Android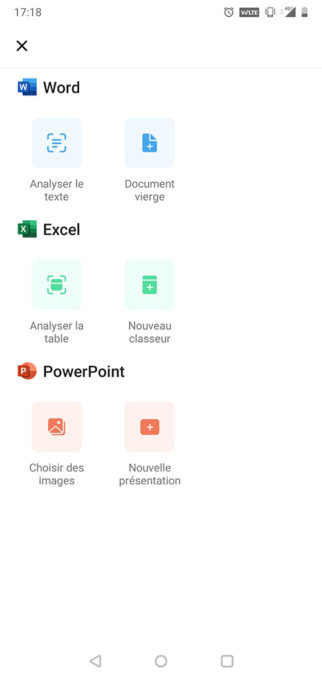 If you want to discover the application Android before its general availability, go to the Microsoft website and join the OfficeMobileAndroidPreview group. Once registered – according to our findings, acceptance is automatic – you will have access to a link to the Google Play store to retrieve the application. If your smartphone is compatible and connected to the Internet, it will install directly on it.
In case you have a iPhoneUnfortunately, you will have to take your trouble. If the procedure is as simple and requires only a few clicks, the test will not accept newcomers. Indeed, TestFlight, Apple's portal to access beta versions of applications, indicates that "this beta version of the app has reached the maximum number of testers allowed."
In addition to its flagship software, the application also includes a notepad to scribble what goes through your head – practical, for example, to keep a small shopping list, or write down ephemeral information. There is also an OCR utility (to extract text from an image) and a tool to extract a table from an image and send it to Excel.
Office also offers a QR code scanner, features for PDF (signing a PDF, scanning an image in this format, converting a document or creating a document from an image) and file transfer facilities (with a limit 10 MB per file) between his PC and the smartphone. It is also possible to transfer from one smartphone to another based on their geolocation.