Crispy on the outside, soft on the inside… Who can resist a cookie? Invented in 1938 by two American cooks, this dessert has now conquered the whole world. And in this matter, there are a thousand and one possibilities. Femina.fr has already revealed the delicious recipes of the great chefs, those of Christophe Michalak, Pierre Hermé or Cyril Lignac in mind. As for Internet users, they seem to have made their choice. Among the thousands of cookie recipes available on YouTube, one fares well. Published in April 2018, it has been viewed more than 25 million times, thus taking first place in tutorials for this dessert on the platform. Produced by the American site Tasty (of the group BuzzFeed), it is the result of very serious research carried out by a team of journalists.
A clever mix of sugars and flour
" To find the best recipe ever, we tested a ton of possibilities – playing around with things like sugar, fat, and flour types – then put it all together to create the ultimate chocolate chip cookie. », They detail. Conclusions? To obtain an ideal texture and flavor, it is better to opt for a white sugar / brown vergeoise mixture. The same goes for flour, a combination of bread flour and classic white flour gives much better results. To add an astonishing touch, the team also decided to add a little espresso powder, a product that is difficult to find in France and that you can remove from the recipe because it is not essential. Finally, last tips: instead of softened butter, Tasty has chosen to melt its butter in a saucepan, before letting it lightly brown, which gives a slight nutty taste to the preparation. The culinary site also had the idea of ​​combining ready-made chocolate chips and crushed dark chocolate. Want to test this creation?
Here is the recipe for Tasty's ultimate chocolate chip cookies:
Preparation time: 18 minutes
Cooking time: 20 minutes
For 18 cookies
Ingredients:
125 g bread flour
95 g of white flour type T55
A good pinch of table salt
1 teaspoon of baking soda
225 g unsalted butter
2 tablespoons of water
220 g of brown vergeoise (Americans have a sweeter palate, you can reduce the dose a little)
100 g of white sugar (same thing for white sugar)
10 ml vanilla extract
1 teaspoon of espresso powder (optional because this product is difficult to find in France)
1 large egg
1 large egg yolk
85 g chocolate chips
130 g of crushed dark chocolate
In a bowl, sift together the flours, salt and baking soda. Reserve.
In a medium or large saucepan, melt the butter over medium heat.
Bring the butter to a boil, stirring regularly. Brown it lightly.
Once the butter has taken a nice nutty color, remove from the heat and pour into a large measuring glass to stop the cooking. Let cool for a minute or two, stir and gently add 2-3 tablespoons of water to the butter to make 240 ml of liquid.
Let cool to room temperature. To speed up the process, place in the refrigerator for 10 to 15 minutes maximum.
In a large bowl, add the sugars, vanilla, espresso powder (optional) and cooled brown butter. Mix for 1 to 2 min with an electric hand mixer until light and fluffy.
Add the egg and yolk and beat until incorporated.
Add the dry ingredients three times (flour, salt, baking soda).
Using a wooden spoon, incorporate the chocolate chips and crushed chocolate into the dough.
On a baking sheet lined with parchment paper, place cookie dough balls with a scoop of ice cream. For best flavor, cover and refrigerate for 1 hour or, better yet, overnight.
Preheat the oven to 180 ° C.
Bake for 12 to 14 minutes.
Let the cookies cool on the baking sheet for 2-3 minutes before transferring them to a dish to cool them completely.
Angle of the article defined by femina.fr, recipe translated and written by femina.fr, reproduction prohibited under penalty of legal proceedings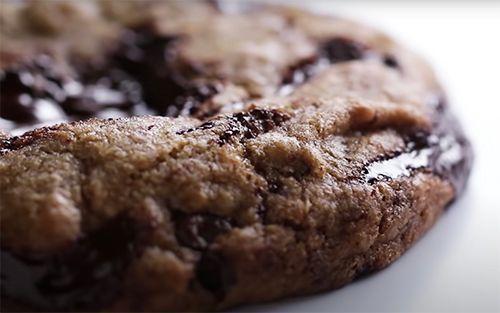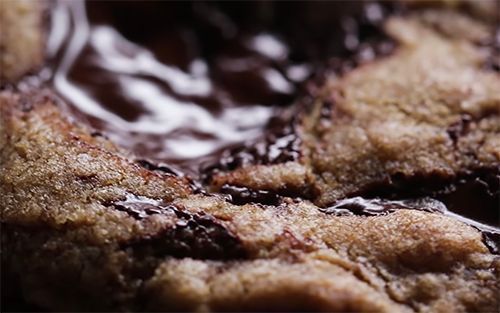 © YouTube screenshots
Also to discover: Here is the recipe that allows you to reproduce the best cookies in the world at home and it is very simple.