Cooking in Genshin Impact is very useful when it comes to regaining life. But some recipes allow you to increase your stats for a few minutes, and therefore can be very effective. As part of our Genshin Impact guide, we'll walk you through how to find the "Adept Catch" recipe, a 5-star recipe that improves your offensive stats. .
You will have to go to the Qingyun Peak and climb on it until you reach the highest point. Remember to activate the teleportation point, then go up just above to interact with the statue. You will have to activate 3 more, by turning them in the direction of the main statue next to which you are currently standing. Here is the location of these statues:
First statue
This is the easiest to find. Look slightly below around you while standing next to the statue, to see a spiral-shaped platform below. Glide to the latter and activate the first statue by turning it in the right direction.
Second statue
The second statue is on the Mount Hulao West. Teleport to the main statue and look west, to see a mountain with trees with orange leaves. Jump and glide to the peak marked by an arrow in the screenshot. Climb to the top of it to find the second statue. Turn it the right way to activate it.
Third statue
The third statue is located near the Mount Aozang. Head back to the main statue again, and look northwest. The statue is at the top of the mountain with the trees, just to the left of the large water point.
Then go back to the main statue and activate it. A breath of wind will then appear. Glide over the latter and you will come to stone platforms. Climb them, then take the breath of wind to arrive on another series of platforms. Climb them and you will then come to face 3 coffers, two precious and one luxurious as well as a Geoculus. In one of the chests is the recipe for the Adept-Catcher.
The Catcher-Adept will increase your ATQ from 260 to 372 points and the rate CRIT 8% to 12% for all characters on the team for 300 seconds.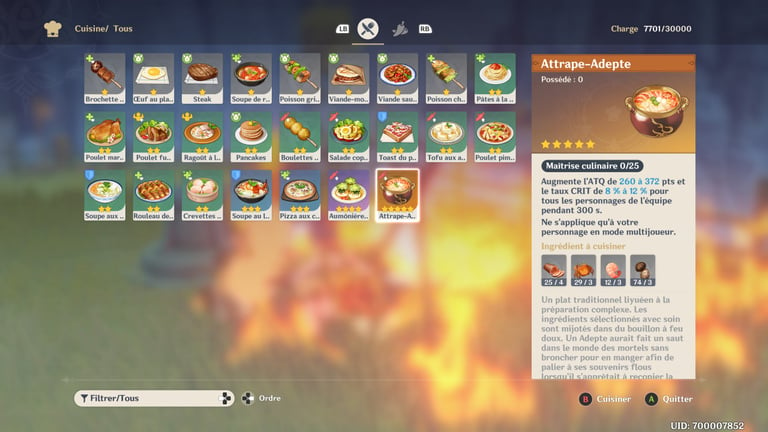 To read also:
Genshin Impact: Our Complete Guide

By Tridash, Writing jeuxvideo.com
MP