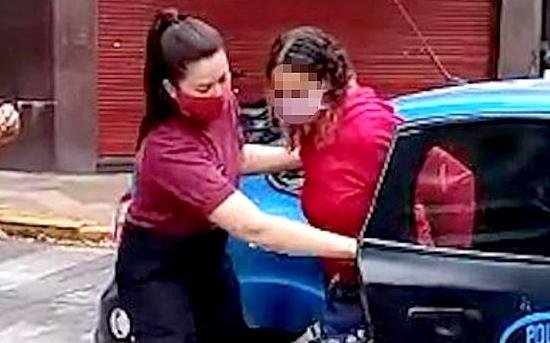 Investigators of the kidnapping of a 6-year-old boy who was attending a vacation colony in the Buenos Aires neighborhood of Caballito, by a woman who posed as a relative, are trying to determine if the defendant had any kind of relationship with club employees , while they raided his psychiatrist's offices.
Sources of the investigation assured that members of the Community Police Station 6 of the City Police first inspected the house of the 25-year-old woman detained last night and the West Club, where the vacation colony to which the abducted child attended.
The same spokesmen pointed out that as the investigation progressed, members of the Crimes Against Sexual Integrity Division of the Superintendency of Family Protection and Gender Violence raided the properties of the psychiatrist who treats the accused yesterday afternoon.
In one of those procedures, carried out in Parque Avellaneda, the police seized a prescription book and three sheets with notes linked to the accused and dated January 13 and 28 last.
These raids were ordered by the National Correctional and Criminal Judge 14, María Provitola, who also ordered the abducted child to testify through a Gesell Chamber with the assistance of a specialist in Psychology.
According to sources, the magistrate intends to establish what happened during the 40 minutes that the boy was with the woman who captured him at the exit of the Club Oeste neighborhood.
In that sense, the judge intends to reconstruct the path taken and rule out that there has been any type of abuse by the woman, the informants said.
Meanwhile, the magistrate in the next few hours will investigate the detainee, in principle, for the crime of "illegitimate deprivation of liberty."
However, before investigating it, the magistrate will wait for the suspect to be subjected to the rigorous psychiatric and psychological studies, to determine if she is in a position to testify.
Regarding the procedure carried out at the West Club, at 400 José María Moreno avenue, in Caballito, the investigators searched for evidence, seized videos of the security cameras and documentation of the teachers and minors who attended the colony, sources said .
"What is sought is to determine if there was any kind of collusion or relationship between the detained woman and the employees of the colony, so the videos will be analyzed to try to determine if the woman had already come to the place to do some kind of prior intelligence, "said a police chief participating in the investigation.
In any case, as explained by the investigator, the suspicion is that it was "an outburst of the moment."
Is that the investigations determined that the defendant has no antecedents and according to the relatives' account, "something similar had never happened."