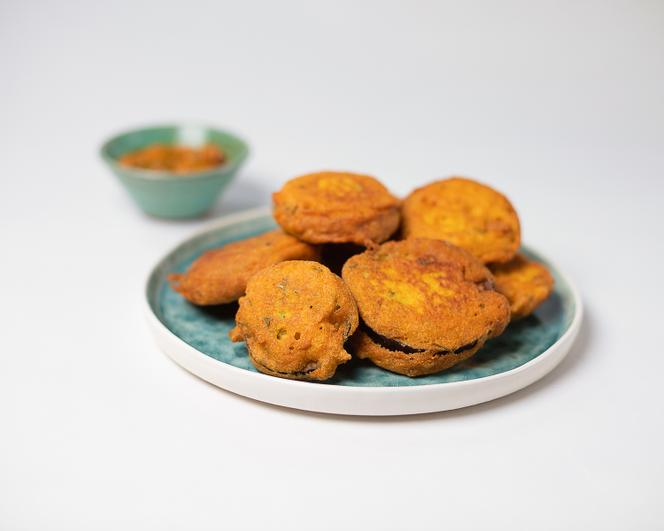 Ingredients for 2 to 4 people
1 large eggplant,
2 cloves garlic,
5 g of fresh ginger,
200 g of chickpea flour,
1 C. to c. sweet or hot chili powder,
½ tsp. to c. turmeric powder,
3 pinches of baking powder,
2 pinches of asafoetida (Indian spice, optional),
1 handful of fresh coriander leaves,
20 cl of water,
vegetable oil for frying.
Preparation
Cut the eggplant into slices about 5 mm thick. Chop and mash the garlic and ginger. Chop the cilantro.
In a salad bowl, combine the chickpea flour, chilli and turmeric. Season with salt and add the yeast. Add the ginger and garlic puree and at the end the pinches of asafoetida. Gradually add the water and mix well to obtain a smooth orange paste. Add the cilantro and mix.
Read also
Clotilde Bato: "Chickpeas are one of the best alternatives to animal proteins"
Dip the eggplant slices one by one into the dough so that they are completely and evenly covered. Fry them in very hot oil (175 ° C). Take them out when they are golden on both sides. Enjoy with a yogurt, mint, hot sauce or sweet chutney sauce.