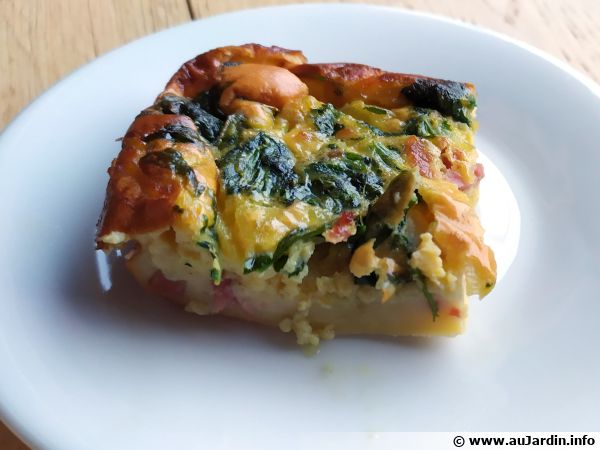 Do not throw away your radish tops! Here is the recipe for a tasty and economical salty clafoutis, for a zero waste kitchen!
Number of persons : 4
List of ingredients
Preparation time: 20 minutes
Cooking time : 35 minutes
Recipe
Chop the shallot.
Wash the radish tops and cut them into strips.
Preheat the oven to 160 ° C.
Brown the bacon in a dry pan.
Then brown the shallots and the tops. Book.
Pour the flour into a bowl.
Add the eggs one by one and mix. Add the milk and mix again until you get a smooth and homogeneous cream. Add salt and pepper.
Butter a gratin pan and pour the batter into it.
Add the radish tops, the shallot and the bacon.
Place in the oven for about 35 min.
Serve hot.
Tips for a successful recipe
The advantage of clafoutis is that it is available as desired, depending on the vegetables or seasonal fruit. In this recipe, fans can add a handful of grated cheese, incorporated into the eggs, or sprinkled on the surface, before baking.
Namely: if the eggs are well beaten, the dough swells, then falls out of the oven. This is normal: it is thanks to this that your clafoutis will be soft.
Read also