This recipe, invented by his mother and embellished with a lemon sauce, contains two ingredients that one would not necessarily think of marrying, pear and celery. Still, it works very well.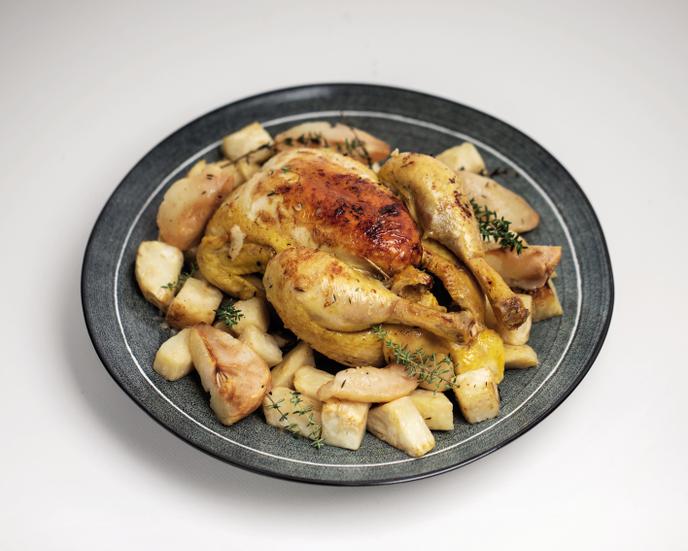 For 6 to 8 people.
1 farm chicken from 2 to 2.5 kg (cut into 6 or 8 pieces)
1 celeriac of about 1 kg
3 still firm Williams pears
10 cl of extra virgin olive oil
2 bay leaves
4 sprigs of fresh thyme
Some fresh tarragon leaves (optional), salt, freshly ground pepper
For the sauce (optional):
2 beautiful untreated lemons
125 g salted butter
1 C. to c. honey
20 cl of tonic (Fever-Tree or Archibald, failing Schweppes)
The preparation
Wash and peel the celery and pears, use the peelings to make a broth that will be used for cooking the chicken (put the peel in a saucepan, cover with water and simmer for 20 min). Cut 2 pears in four and celery in pieces.
The cooking
In a cast iron casserole, drizzle with olive oil and brown the pieces of chicken on all sides. Add the celery and caramelize over low heat. Combine the chicken, celery, pears, bay leaf and thyme in the pan, drizzle with olive oil, add 1 or 2 ladles of broth and bake (without lid) for 30 to 40 minutes at 180 ° C. "grill" mode (add chopped tarragon leaves 10 min before the end of cooking).
The sauce
Take the zest from the lemons and blanch them three times in a row (put them in a saucepan with cold water, bring to a boil, then start again). Peel the lemons raw: with a knife, remove the white part of the lemon. In a saucepan, sauté blanched zest with a nice knob of butter to lightly brown. Add the pulp and cook covered for 10 minutes over low heat. Then add the tonic, boil and pour into a blender. Add cold butter, honey and mix until smooth.
The presentation
During cooking, you can add a little broth. Once the chicken is cooked, let it rest for 15 minutes. Serve with pieces of raw pear, lemon sauce, a good turn of the mill pepper.