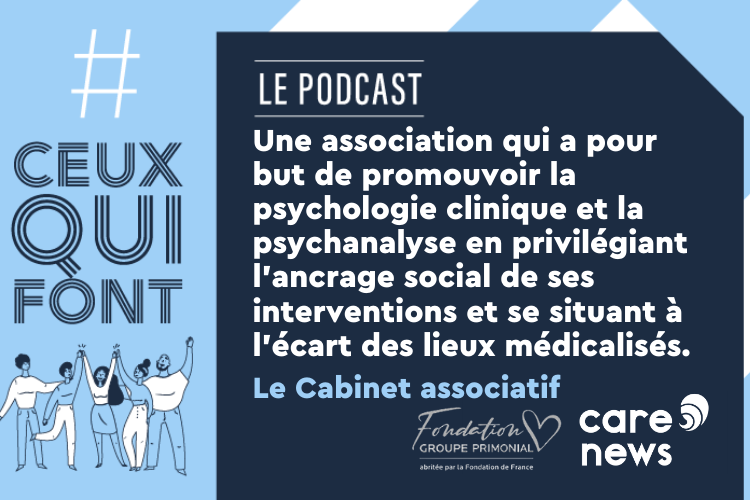 Visual credit: Carenews
Created in 1989 by Jean-Louis Benadon, the Associative Cabinet is a group of clinical psychologists with the aim of promoting clinical psychology and psychoanalysis throughout the Île-de-France. The firm favors the social anchoring of its interventions and is located away from medical places.
The objective is to go towards …
"Anyone can knock on our door. The peculiarity of the association is that, often, the public that we meet does not have the resources to go to consult a liberal professional, because that has a cost. And this public also comes up against the difficulty of obtaining an appointment in public establishments ", underlines Sabrina Siamer, clinical psychologist within the associative cabinet.
Consultations are supported for people below the poverty line and partners, such as the Primonial Group Foundation, make these consultations free for beneficiaries and their beneficiaries.
There was a fairly significant impact following the confinements.
In order to ensure a follow-up of the beneficiaries, the association continued its consultations during confinements.
During this particular period, the Association Cabinet had to deal with an increase in domestic violence. "The confinements have revealed certain difficulties," insists Sabrina Siamer.
Following the first confinement, psychologists noticed that the people accompanied suffered more anxiety. The beneficiaries were affected by the isolation and the lack of social connection. The observation is clear according to Sabrina Siamer: the Covid-19 crisis has contributed to reinforcing the weaknesses of some. In addition, there was also a growing need for support among adolescents, proving that the work of the association is more than necessary today.
How to help the association firm?
Today, the association needs financial support to strengthen its presence and offer beneficiaries an even broader system with more support. You can make a donation by downloading the form from the association's website: www.lecabinetassociatif.com
---

Find the Association Cabinet on Facebook or on the association's website.
---
Sabrina Siamer also invites everyone interested to promote the association, which sometimes lacks visibility in the region.
#ThoseWhoFont
This episode is supported by a partner of the associative firm, the Fondation Groupe Primonial, whose mission is to promote equal opportunities and promote a more inclusive society by supporting actions in the fields of education, health and social and professional integration.
In addition to this, you will need to know more about it.
All episodes: