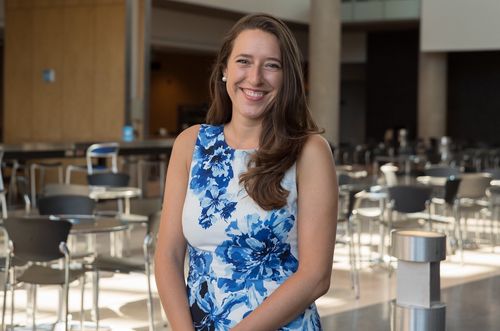 For Pascale Vézina-Gagnon, having been a lecturer for four years in the Department of Psychology of the Faculty of Arts and Sciences, in addition to simultaneously doing her doctorate in clinical psychology, has proven to be an investment of the heart and the mind. . In its classrooms, there is a climate of trust, benevolence and solidarity. The award for excellence in teaching to doctoral students and postdoctoral fellows in charge of lectures that has been awarded to him recognizes his dedication and his human, empathetic and visionary approach.
The last Université de Montréal survey on the mental health of the student population, carried out in 2016, revealed that 10.5% of undergraduate students reported enough symptoms to be considered in a situation of exhaustion and that 9% had suicidal thoughts. As a lecturer and future psychologist, Pascale Vézina-Gagnon was deeply touched by these figures. Knowing also that the majority of its students wish to continue their career in a helping relationship and aware that workers in this field are at risk of compassion fatigue or burnout emotionally, she decided to devote to each session a complete course on the theme "Taking care of yourself". Different experiential modalities have been explored over the years such as mindfulness sessions and facilitated talking circles, through which students were mentored and guided in expressing their current emotional states. "It is in a warm and humane atmosphere that my groups have had the chance to express their vulnerability, to experience states of sadness and anxiety as much as states of joy and laughter. This experience, in which the students supported each other, was a turning point for the course; I witnessed greater solidarity between them in the weeks that followed and the formation of friendships. "
Believing deeply in participatory and experiential pedagogy, she has chosen to teach courses where the main learning modality is through anchoring theory in living experiences to optimize the integration and consolidation of learning.
For example, in his course on the helping relationship in clinical psychology (Interview methods and techniques), one of the themes discussed is the importance of connection to oneself in establishing an emotional bond with the person being supported. To achieve this, the students had to focus their attention on what different musical extracts from the violin could arouse in them, as much in the cognitive dimension as on the emotional or bodily level of their experience. Then, by sharing their experiences with their colleagues, they were able to experience this intimate connection to themselves and to each other and to extract the beneficial effects to fuel their clinical practice. Faithful to a participatory pedagogical philosophy, Pascale Vézina-Gagnon ensures that in all her courses "students have the opportunity to move away from a posture focused on performance to come closer to a posture of creator, where new knowledge can emerge in them from their pre-existing knowledge ".
Department of Psychology director Michelle McKerral says Mr.me Vézina-Gagnon is "an excellent lecturer who promotes a philosophy of learning that promotes self-development and the well-being of the students she teaches." For their part, the latter underline in their evaluations of the course how much she will have been an outstanding teacher in their training courses and that they certainly emerge grown and transformed from her courses.
Pascale Vézina-Gagnon believes that the coming years will be decisive for Quebec with regard to mental health issues, particularly access to health care and the possible need to train more psychologists. Thus, for the future, she aspires to train our future psychologists and therapists according to a human approach for a better psychological well-being of all.
Ms. Vézina-Gagnon is an excellent lecturer who promotes a philosophy of learning that promotes self-development and the well-being of the students she teaches.
– Michelle McKerral
Let's block ads! (Why?)