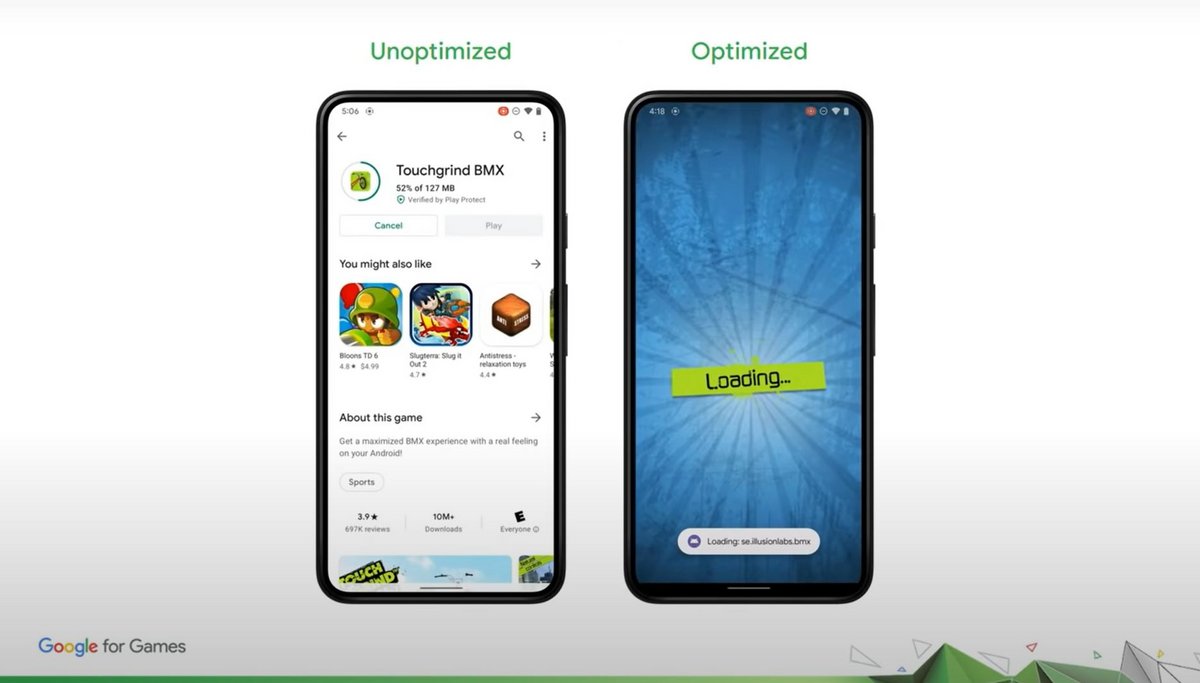 Credit: Google
Android 12
is revealed a little more through a feature that should delight mobile gamers.
During its Game Developer Summit conference, Google spoke at length about video games on mobile devices, and in particular on Android. And announced a new feature coming on the next update of its operating system.
Read also:
Android 12: Wi-Fi and privacy settings show in new beta
Launch a game when it is not 100% downloaded
Android 12 will introduce what the Mountain View firm calls the "Play as you download". The name is crystal clear, this option simply allows you to quickly launch a game from the Play Store that is not installed on your smartphone or tablet and play while it is being downloaded.
As a demonstration, Google took the example of the game Touchgrind BMX
, which weighs 127 MB. At about 20% of its download, the title has become playable: no need to wait long seconds or even minutes to start a game.
This function allows you to download as a priority the elements essential for the proper functioning of the game, then to tackle more optional resources in the background: high resolution textures, cinematics … A principle that we have known well for years on PC and console and which allows you to enjoy a game before having downloaded all the dozens of GB required.
Read also:
Android 12: the new interface is revealed before Google I / O
The wait is drastically reduced
Google indicates that a game can thus be opened at least twice as fast as without the "Play as you download», But the time savings can be much more important in the case of heavier games. The feature is exclusive to Android 12 because it requires the file system Incremental FS to work.
And, perhaps the best of all: this novelty does not need to be supported by game developers, all titles will be compatible without studio intervention. A good alternative to Google Play Instant Apps, these demos allowing to try an application without installing it.
Adblock test (Why?)