Do you love Vietnamese cuisine? Here are all our tips for cooking at home and reproducing your favorite specialties!
Vietnamese cuisine is characterized by its diversity and its pronounced flavors. Here are 5 dishes to make at home to treat you (and above all, impress your guests!).
The Bo Bùn
Bo Bùn is a staple of Vietnamese cuisine. It is a bowl garnished with rice vermicelli, spring rolls, beef and vegetables. It is a real delight and above all, the recipe is very easy to reproduce at home.
For the preparation of beef:
200 g beef (rump steak, flank steak, tender piece)
1 tbsp chopped fresh lemongrass
1 onion
1 clove garlic, minced
1 tbsp soy sauce
1 tbsp brown sugar
For garnish :
200 g rice noodles
3 frozen spring rolls
A mixture of vegetables (cucumber, carrot, soy)
A few mint or coriander leaves
1 handful of crushed peanuts
For the sauce:
2 tbsp Nuoc Mam sauce
1 tbsp of sugar
1 tbsp lemon juice
Mince the beef and mix all the ingredients for the marinade. Mix everything and leave for 30 minutes. Cook the meat for 10 minutes over medium heat. Heat the spring rolls in the oven for 15 minutes then cut in half. Reserve. Peel and finely chop the vegetables. Cook the rice vermicelli for 5 minutes in a saucepan of hot water. Combine all the ingredients for the sauce. In a fairly large bowl, arrange the rice vermicelli, vegetables, spring rolls and then the meat. Add the sauce, fresh herbs and peanuts. It's ready !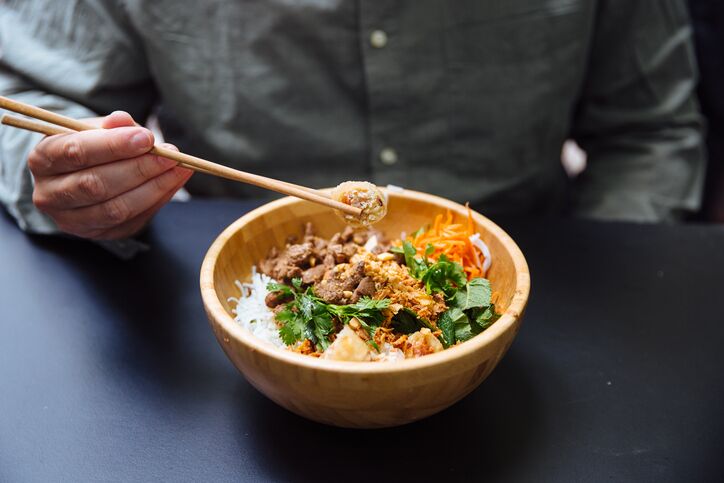 Pho soup
This soup from North Vietnam is a true tradition in Vietnamese meals. Its flavors and grandmother cooking make it an essential specialty. Pho soup (to pronounce "fire" can be tasted with beef, meatballs or vegetables. To make this Vietnamese dish a success, you have to let the broth cook slowly. The best option is to prepare it the day before so that it develops all its flavors.
For the broth:
Spices (lemongrass, ginger, chilli, cloves)
1 L of water
1 tbsp of oil
Meat bones (beef or chicken)
1 onion
For garnish :
1 rump steak
1 garlic clove
1 cm fresh ginger
100 g rice tagliatelle
Fresh herbs (coriander, basil)
1 lime
3 tbsp Hoisin sauce
Thinly slice the onion. In a large saucepan, brown the onion with the bones, spices and oil for 5 minutes. Add the water and simmer for 1 hour over low heat. Filter and keep the broth aside. Mince the ginger and garlic, then mix with the Hoisin sauce. Add the zest of a lime and let marinate for 30 minutes. Cut the meat into thin strips and cook everything in the broth (about 10 minutes. Add the rice tagliatelle, fresh herbs, it's ready!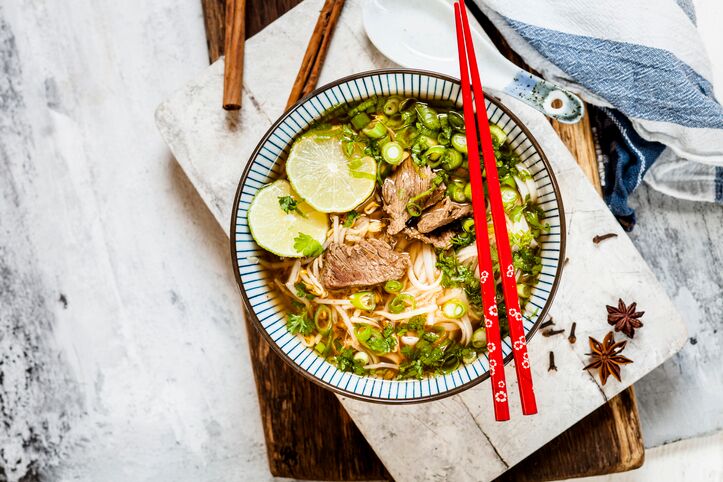 Beef Lúc Lác
Lúc Lác beef is an iconic specialty of Vietnamese cuisine. To pronounce Lúc Lác beef correctly, you have to say "Loc Lac", which means "shaken". This word has been designated for this recipe because of the way of frying the pieces of meat in the pan, back and forth. You can serve this typical dish with rice and a fried egg.
You need :
300 g of beef
4 tbsp soy sauce
1 garlic clove
1 tbsp of sugar
2 tbsp tomato puree
1 tbsp ketchup
1 lime
Fresh coriander
Oil
Prepare the beef marinade by mixing the soy sauce, minced garlic, coriander, sugar, ketchup, tomato puree. Thinly slice the beef and add to the marinade. Let it sit for at least an hour. Heat a wok with a little oil and cook the beef without ever stirring it. After 10 minutes, it's ready!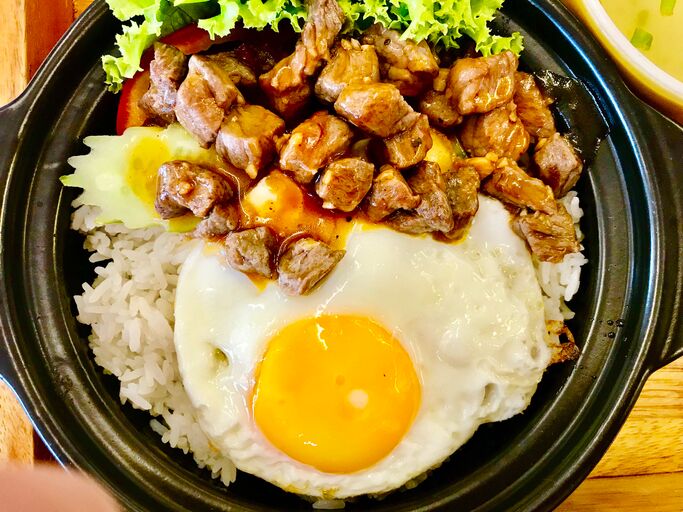 Caramelized chicken with ginger
Caramelized chicken with ginger is a delicious and very fragrant Vietnamese specialty. Unlike other Vietnamese recipes, it is made with very simple ingredients.
You need :
400 g chicken breast
3 cm fresh ginger
1 onion
1 garlic clove
3 tbsp nuoc-mâm sauce
3 tbsp liquid caramel
3 tbsp salted soy sauce
Oil
10 cl of chicken broth
Brown the chopped chicken, onion and garlic in a little oil. Add the minced fresh ginger, the nuoc-mâm sauce then pour the broth. Leave to reduce over medium heat for 15 minutes. Add the caramel, cook for 10 minutes. It's ready !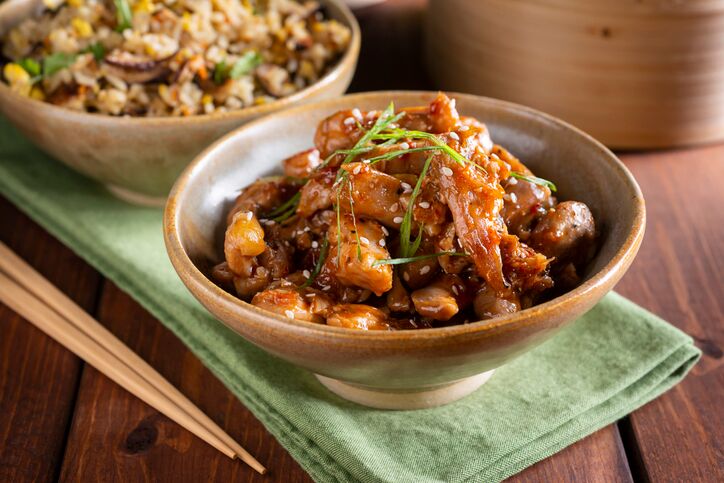 Banana, coconut and tapioca soup
This dessert is a basic of Vietnamese cuisine. Native to southern Vietnam, its special texture and inimitable taste make this Vietnamese dessert a must. Here's a quick and easy recipe for making it at home.
You need :
1 bananas
30 g tapioca pearls
20 cl milk
20 cl coconut milk
20 g sugar
1 sachet of vanilla sugar
Heat the milk in a saucepan then add the tapioca pearls. Cook for 10 minutes. Pour in the coconut milk, sugar and vanilla sugar then cook for 5 minutes, stirring regularly. Cut the banana into small pieces and add to the whole.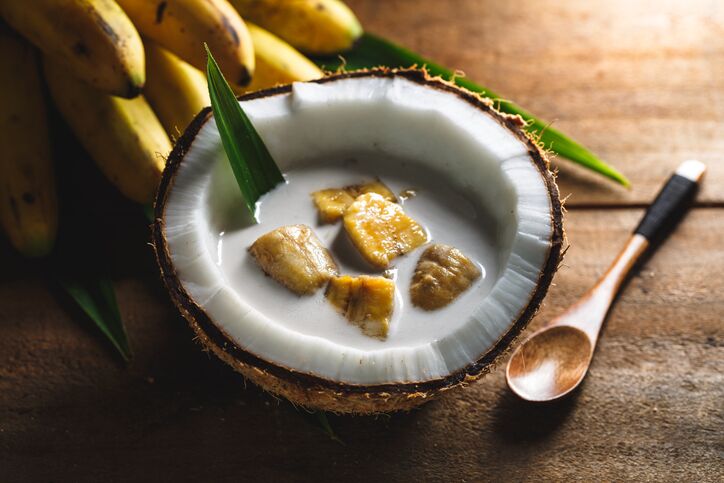 Enjoy your meal !